Focus Friday Aztec

Happy weekend to us all! With the new weekend, comes a new Focus Friday. This time, we are going to focus on our own brand, specifically the Aztec. While we are focusing on this disc for the weekend, you can enjoy 20% off the Aztec with the discount code below.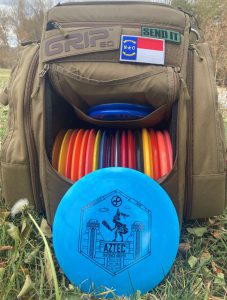 This stable distance driver is available in a handful of plastics; I-Blend, G-Blend, and Swirly S-Blend. This is a straight flying driver, its 10 speed provides a surprising amount of distance and a good amount of accuracy. Due to the speed and the stability of this disc, it is a pretty manageable distance driver to throw. You could consider this to be a longer Exodus. This could easily be a go-to distance driver, as it will hold most lines you throw it on. What better time to restock or try out the Aztec. What do you like Aztec for?
Head on over to InfiniteDiscs.com/Infinite-Discs-Aztec to select your Aztec. Once everything you want is in your cart, you can apply the discount code FOCUSAZTEC and get 20% off all Aztecs in your cart.
Note: After placing your discs in the shopping cart and before checking out, click on the "Discount Code" box under the shopping cart and enter that code. Then proceed to checkout.