Focus Friday – Divergent Discs Golem

The weekend is at our doorstep! The warmest days of the year are here, and it is exciting! I'm super stoked to enjoy the weather this weekend, hopefully, you've got some good coming your way for this weekend. And hopefully this Focus Friday's discount code will bring you some more good!
This weekend we will provide a discount code for the Divergent Discs Golem FOCUSGOLEM. This will save you 30% off all Golems. If you're like me, when I hear the word Golem I think of the Pokémon. Just a massive rock ball creature with a head, arms, and legs. This image does somehow suit the disc, for me at least.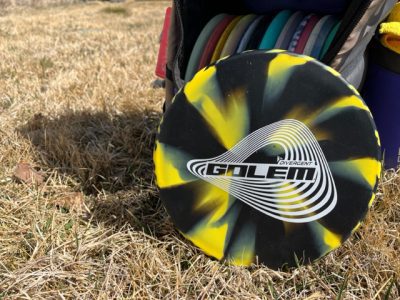 The Divergent Discs Golem is an extremely overstable putt and approach mold. It exhibits low glide, low speed, and high fade. It has a similar feel to that of a Discraft Zone or a Westside Discs Harp. Pretty similar flight to an overstable approach disc as well. I find that this has a very comfortable backhand grip and an okay forehand grip.
The thing that really makes this disc unique over other putt and approach discs is the plastic blend. I should say rubber blend. The golem comes in Divergent's StayPut rubber blend. This makes for a floppy, with some rigidity to it, disc. Allow for hardly any ground play. I have found that this disc works great for spike hyzers, or where the landing zone has some things around in which I do not want end up.
The Discount Code
Here is the deal, head over to our website and select the Golems that you want and any other item that you need. Once everything you need is in your cart, you can apply the discount code FOCUSGOLEM and get 30% off all Golem discs in your cart.
Note: After placing your discs in the shopping cart and before checking out, click on the "Discount Code" box under the shopping cart and enter that code. Then proceed to checkout.