FOCUS FRIDAY – THE YIKUN LU (LUAN)

We've started taking the opportunity to focus on specific discs in specific plastic types on Fridays and call them "FOCUS FRIDAY" blogs. We may not make it on every week, but we'll try to keep some fresh discs in the spotlight on a somewhat regular basis.
Our New Focus Friday Features the Yikun LU (or LUAN)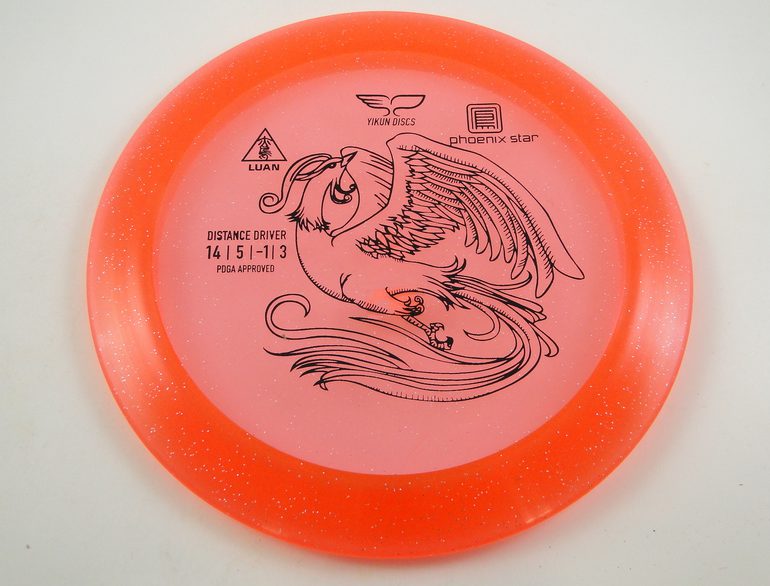 The LU by Yikun Discs (also called the "Luan") was originally introduced in Phoenix Line plastic which is a durable, translucent plastic similar to popular blends like Innova Champion or Discraft Z Line. But more recently, Yikun experimented with a new version of the plastic which is now called PHOENIX STAR. This new plastic blend is gummy and flexible, like the discontinued Frost Line plastic by Latitude 64, or the sometimes seen Gummy Champion by Innova. It's a great plastic blend for cold weather when discs tend to stiffen-up. It feels truly unique.
The disc itself came out VERY flat in the Phoenix Star plastic. It almost has the profile of a dinner plate! It is a wide rim driver at maximum "speed 14" and an overstable finish. This is a great utility disc when you want a hard fade at the end of flight, or if you love to crank sidearm (forehand) or overhand (tomahawk style). Power throwers will love cranking on the LU, and more intermediate players will find it to be a very useful overstable disc when a lot of side-to-side movement is needed on the course. The disc can also be used for a huge spike-hyzer.
Here is a little clip of an amateur throwing the overstable LU after showing how flexible it is. You can see how dramatically it fades once it loses speed.
Three Words: FLAT, FLEXIBLE, and FAST!
This week (until Saturday the 2nd of November) you can get your hands on the LU with a great discount of 20% OFF! Simply add the LU discs to your cart that you desire, then before clicking to "Checkout," look below your shopping cart for the Discount Code box and enter this code:
FOCUS-LU
Then click "Checkout" to proceed to the payment screen with the 20% discount applied. The discount will apply to all the LU discs in your shopping cart.