How did Covid-19 Affect Disc Golf
2021 State of Disc Golf
How did Covid-19 Affect Disc Golf
One of the the things we included in this year's survey was the thing that affected nearly everyone in the world: Covid-19. We wanted to see how the pandemic was affecting disc golf for everyone, since we've know how it's affecting people's lives in other ways. From a broad perspective, disc golf is one of the many sports and activities that are nearly perfect for the restrictions and guidelines that we witnessed during the past 12 months. Since the pandemic didn't affect every region the same, and since local governments were allowed to write their own rules, to a degree (at least in the USA), we saw a variety of different restrictions that affected how we play disc golf. Let's start with how much we played, then we can look at how Covid-19 affected that.
Let's Play Disc Golf
We asked people how many rounds per month they played on average in 2020. Over half of us played between 5-14 rounds per month. That might sound a little low, but that is the average. If winter months bump that number down to 3-5 rounds, that bumps the summer months up to 16-18 round. That's four or so rounds per week, which seems like a good average. Here are the numbers, broken down by the number of rounds:
Covid Affecting Disc Golf
Now let's throw Covid-19 into the mix and see how that affected how often we played. We asked "How did Covid-19 affect your options to play disc golf?" Since some areas closed down even outdoor facilities, many of us didn't even have the option to play. In other areas it was business as usual. In fact, nearly a third of us played more casual rounds in 2020 than in recent years. According to survey results, about half of us played as many or more rounds than usual. There were a small number, about 14%, that indicated that they didn't get to play some casual rounds because of Covid-19.
When it came to leagues, about 15% of us said they missed some leagues because of cancellations or closures. That was a surprising number for me because of all the leagues that were cancelled in our greater area. Even more surprising, even though a larger percentage, is the number of people who said didn't get to play in some tournaments because of cancellations and closures. A little more than a third of us indicated that they had to miss a tournament. I would have thought that number would have been a lot higher.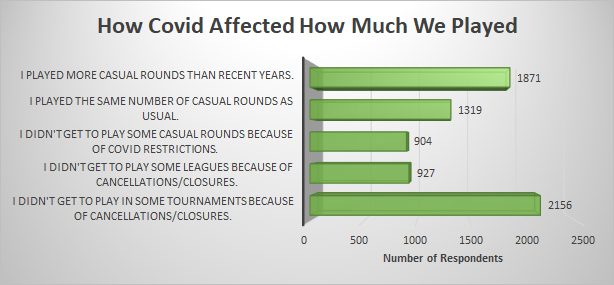 Open or Closed
One aspect affecting the number of rounds we played last year was whether or not the courses were even open. Nearly half of us weren't able to play certain courses at times throughout the year due to closures. While others remained open all year. Here are the numbers: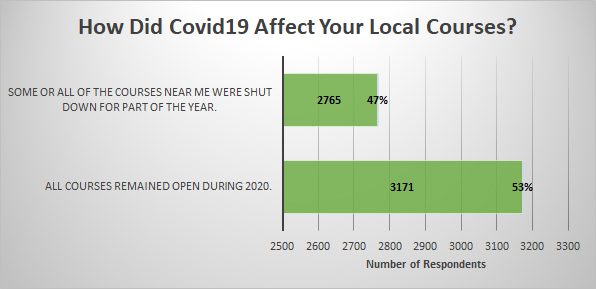 Another option in the question about courses staying open or not was to indicate if you stayed home even though the courses were open. There were 767 people, or about 12% of the total respondents that indicated they chose to stay home. Some also said that courses around them were closed, but that they still stayed home. We should have phrased the question better to give a more accurate picture, but the number is still valid. I was curious about the makeup of the 767 people, so I cross referenced their age groups to see if the demographics were lopsided. The results were surprising. Here is a graph of the age groups who opted to stay home:
I would have thought the age based higher-risk groups would have had more people who would prefer to play alone, and not even on a course. But, the numbers look almost exactly like the graph of age groups from the first blog in this series. Here is the graph of the number of people who took the survey, by age groups:
That's all for this week. Check out next week's blog for more data, graphs, and information about the 2021 Disc Golf Survey. Check out previous posts here
Week 1 – Demographics: https://blog.infinitediscs.com/state-of-disc-golf-2021/
Week 2 – When did you start playing: https://blog.infinitediscs.com/when-did-you-start-playing/