How to Search for Newly Added Discs on Infinite Discs Website

Infinite Discs has been growing at a very fast pace over the last couple of years, and with that growth comes the challenge of keeping up with the website development and building the features that our customers want.
One of the features that has been requested in the past and finally made available to our customers is the NEWLY ADDED DISCS search link. On your computer browser, open the Infinite Discs website, and then look on the right sidebar of the first page to find the link for Newly Added Discs.  Or on your phone browser, simply scroll down until you see the boxed menu for Featured Discs and you'll see the Newly Added Discs link there.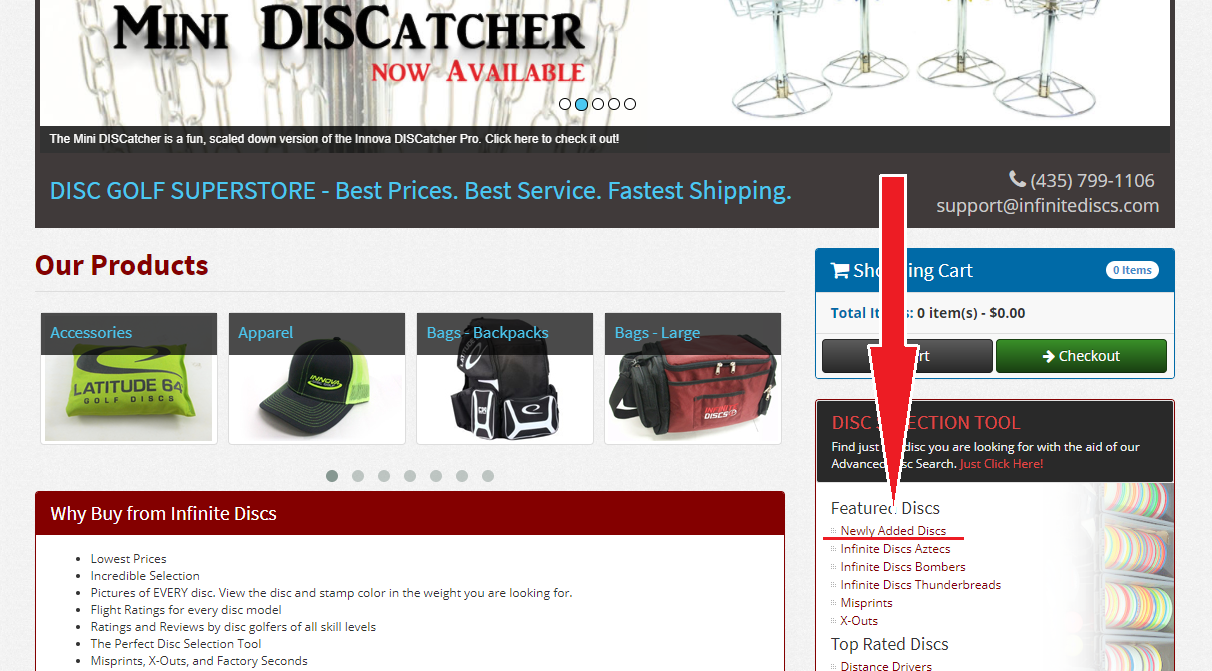 Infinite Discs has a lot of customers who are disc enthusiasts, and they want to get the best-looking discs, or the discs that meet very specific specifications, before other shoppers find them. They have asked for a way to see what we're photographing and adding into our inventory in real time. That is now possible!
We're not yet at the point where we're adding inventory 24-hours-per-day, but we are usually adding new inventory onto the website during business hours on weekdays. With the Newly Added Discs link you can search for those fresh additions in almost anyway you'd like. Either refresh the page from time to time to see what else has been added in, or select a time period that you'd like to search, along with other specific queries to narrow down your search.
You can select to search for the last 7 Days, 10 Days, 15 Days, 20 Days, or 30 Days. Just to warn you, searching the discs added in the last 30 discs could pull up well over 8,000 results. If you want to search back further than that, you might as well search the entire website using the Advanced Disc Search feature, which is an excellent way to narrow down searches of the entire online inventory. Keep in mind that using the Newly Added Discs link will narrow your search to discs entered into inventory within the last 30 days (or fewer) so it will not automatically search the store entire inventory.
You can also narrow your disc search by brand, by disc model, or within a weight range, or a combination of all of those factors. Let's say that I want to see which P2 putters by Discmania are still available from those entered in the last 30 days, but I only want max weight (175g) discs. I can select to search 30 Days, Discmania brand, P2 Psycho as the model, and 175g as my minimum weight. Suddenly, those discs appear and I can add them to my cart simply by scrolling through and clicking the "Add to Cart" button by the discs I want.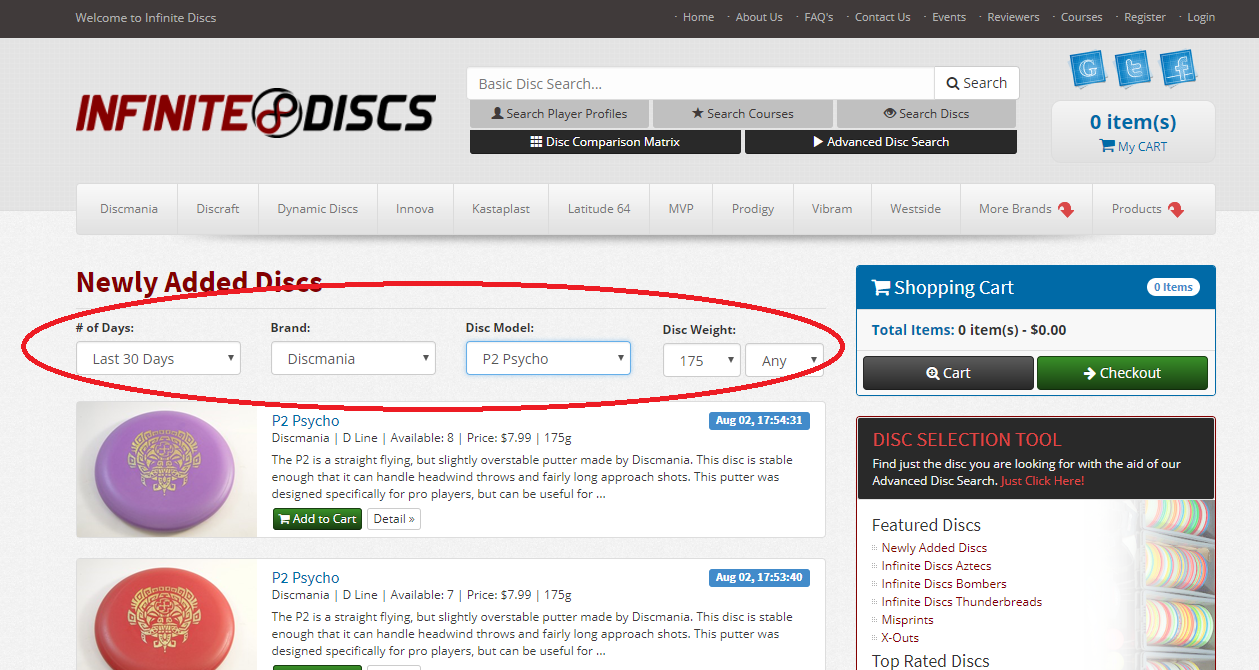 Be the first to find the treasures that used to take more effort and time! Find what you're looking for quickly and easily! Or just sit and refresh the screen while we work to add new discs into our inventory.
Here is a tutorial video that will walk you through the process.
We always welcome your feedback!