Introduction – Dallin Blanchard & His Signature Tomb

Dallin Blanchard is one of our top tier sponsored players, he doesn't have the opportunity to tour as much as he would like, so many people aren't aware of who he is. And with the recent release of his signature tomb, we thought it would be a great opportunity to introduce him through a little Q&A post. He is a phenomenal player, ranked 12th in the world, per the latest PDGA ranking update. He lives in Idaho, has a wife and four kids, and works full time. Without further ado, read more about Dallin, and give him some support by buying his signature Tomb which is now available on InfiniteDiscs.com.
How did you learn about disc golf?
My dad, brothers and I used to play "frisbee golf" while growing up. We would play with ultimate frisbees while on camping trips and in the backyard. We didn't know there were actual baskets and that this was an actual sport so we would use trees and other obstacles as our targets. My oldest brother picked up disc golf while at PA school in Las Vegas. He told me about it and I was immediately hooked.
How long have you been playing disc golf?
I started playing disc golf in the spring of 2013 which makes it close to 8 years. I started playing casually while living in Washington DC and then got more serious when I moved back to Idaho in the summer of 2014. I played my first tournament in 2014 in the Intermediate division. In 2015, I decided I wanted to be a pro, so I played my first Open tournament and took 5th. Since then, I have only played in the Open division with the exception of the 2016 Memorial Championship where I played Advanced and tied for 5th place.
Within the disc golf world, who do you look up to?
Paul Mcbeth because he is the best and I want to be the best and beat the best. I still have a ways to go though… Garrett Gurthie because of his amazing skills with the disc and amazing attitude on and off the course. He is very easy to root for! I look up to several other players but these 2 guys stick out the most.
What's your favorite Driver – why?
My favorite backhand long distance driver is the Star Destroyer. The Destroyers that are in my bag both give me max distance with a very consistent turn at the beginning of the flight and left fade at the end of the flight. My favorite forehand driver is the Infinite Discs Slab. I love that I can throw this disc as hard as I want and will always know that it will finish to the right for me. Both drivers are very consistent and have given me lots of birdies!
What's the best aspect of disc golf? – ie) Long drives, hitting gaps, long putts, meeting people or something else?
While all the things you mentioned are really good things about disc golf, my favorite aspect is the competition. I grew up with 5 boys in my family and pretty much all we did growing up was play sports and compete against each other in the backyard. I love competing against myself and being able to push myself to be the best. I also enjoy competing against better players than myself because it gives me a drive to figure out how to get to their level.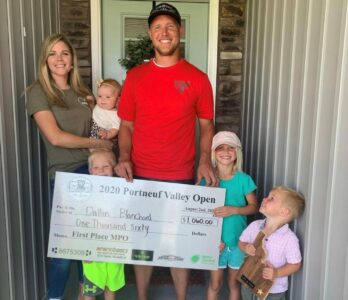 What is your favorite course, and what made it so?
I have 2 favorite courses. My first favorite is Freeman Park in Idaho Falls, Idaho. The reason this is my favorite is because this is the course that I "grew up" on. It is a beautiful well maintained park with big mature trees and grass fairways. There is a small creek that runs through about 5 holes of the course. This course has everything needed to make an elite disc golf player. My second favorite is Camp Sekani in Spokane Washington. This was one of the first wooded courses I played. I love the big tall pine trees and wooded fairways that require you to shape your shot to get into birdie position. I am a fan of all types of courses whether it is in the park or in the woods.
What brand is your favorite?
I currently throw discs from the Innova, Infinite, and Discmania line up. My favorite brand has always been Innova because that is where it all began for me.
Other than disc golf, what are some of your hobbies?
As mentioned above, I am a sports fanatic and played basketball, baseball and football growing up and through high school. I love riding bikes around our neighborhood with my wife and 4 kids. I enjoy everything about the outdoors and love camping and hiking with my wife and kids. I also do a little hunting and fishing each year as well. Also, another favorite hobby of mine is cooking food on my Green Mountain Grill smoker.
Will we see you tour more in the future?
Having a full time job, a wife, and 4 kids definitely makes it very difficult for me to be on the typical disc golf tour. My plans for 2021 are to play in 2 pro tour events, Worlds, qualify and play USDGC, and play several A tiers and B tiers in the Idaho, Utah, Montana, and Washington areas. As disc golf continues to grow and sponsorships continue to increase, I definitely hope there are opportunities for me to tour more in the coming years.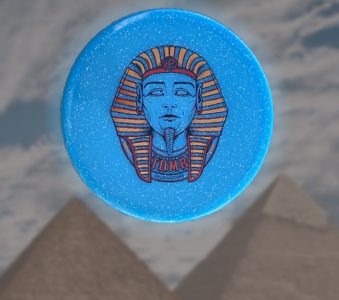 Thank you Dallin for giving us the time to answer these few questions. Keep an eye out for him this upcoming year, as he has plans to play in two pro tour events among other events. You can even look him up on social media, he has had multiple shout-outs there. Or follow him on Instagram: dallin_blanchard. If you like the tomb, you should check out his Concrete Signature Tomb, it is a great looking disc.