Latitude 64 and the New Overmold Discs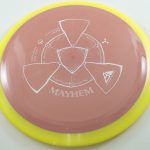 Most disc golfers who fall into the category of "disc enthusiasts" are familiar with the overmold approach used by MVP Disc Sports and their spin-off sister brand, Axiom. Aside from the obvious decorative effect of overmold discs, the combination of separate plate and rim plastics is also supposed to enhance the flight of the disc. There is apparently science to the approach of having differently weighted materials on the inside flight plate and the outside rim of the disc. However, the true test of how well that theory plays out on the disc golf courses comes from player experience. If a disc golfer feels like they are getting better results from one disc rather than another, then I'm not going to argue the point, whether the disc is an overmold model or a standard, single mold model. There are those who swear by the results, and those who aren't believers. Those who wholeheartedly embraced the overmold philosophy have proudly given themselves the name of "gyro-heads."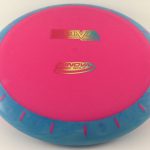 Overmold technology was briefly touched upon by Innova when they put out their extremely popular Nova putt-and-approach disc, and their not-so-popular Atlas mid-range. But at the moment, Innova's interest in overmold discs has not continued beyond those two molds. We shall see if the future brings any continuation of their own unique approach.
A NEW PLAYER?
But now a new company has jumped into the overmold market, and that is Latitude 64, who not only has their own brand, but manufactures discs for Dynamic Discs and Westside all within their factory in Sweden. Latitude 64 has come at the overmold approach with a different angle, combining both of their premium plastics into their initial models. So far, they have used their durable, translucent Opto plastic for the flight plate, and the their durable, opaque Gold Line plastic for the rim. They call the combination of the two plastics "Opto-G." They claim that this approach makes the entire disc not only more durable, but more predictable in flight.
Let's take a look at the three flagship overmold discs from Latitude 64, all of which seem to be aimed at the larger beginner-to-intermediate disc golfer demographic.
First of all, let's take a quick look at the putter. The Sarek is designed for precision with a very straight flight path and very good glide. It has very light end fade, so the Sarek can hold a line for long putts or approaches and would even work well as an easy-throw driver for a novice player. If you guide the angle of release with the tilt of your wrist, the Sarek holds that angle nicely as well.The putter can also be used for gentle forehand flicks with accuracy.
The rim is not too deep for my personal tastes, and the shape feels comfortable in the hand. I would feel comfortable recommending the Sarek as a putter for players of all experience levels.
The Gobi really surprised me when I took it out for a few throws. For a mid-range, this disc can really go. I don't usually throw my mid-range discs with much power (that's not really the point of a mid-range) but once I saw how well it glides, I had to throw the Gobi with a little more heat. I wanted to see what kind of distance it could attain. With a little hyzer angle on the release, I got this disc to stand up and fly up to 300 ft. It doesn't move fast, but it keeps going, and the gentle comeback fade at the end-of-flight results it even more distance.
But aside from surprising distance from the Gobi it is a really accurate, easily controlled mid-range for upshots and for working the fairway. It isn't too understable, but it isn't too overstable either. It's a straight-flyer that obeys your command, and finishes with a gentle fade.
The Bryce is a great introductory fairway driver in Latitude 64's overmold line. It is designed as a neutral driver with just enough stability to hold a straight line under respectable speeds. When thrown with too much speed, it flips a bit too much to the understable side, but that is because it is not designed as a high-speed distance driver. When thrown at a lower speed it can be easily controlled for accuracy and consistency at distances between 200 and 300 feet.
Latitude 64 is smart to make this introductory overmold driver accessible to the majority of players who work within the realm of novice to intermediate. So the speed and stability are just right at those skill levels. The excellent glide gives the flight just a little extra distance. New players can build up their speed and control with a disc like the Bryce, and then continue using the disc as a manageable fairway driver even as their skills increase.
Overall, all three of these discs cast a hopeful light on Latitude 64's attempts at moving into the overmold territory. All three discs were particularly strong in terms of their glide, much like the classic Latitude 64 River. It will be interesting to see what they do when they start to stretch into more overstable and higher speed thresholds.