New Disc Releases

New Disc Releases – Aug. 1-13
Hooligan Discs Yeet – Drew Gibson
Drew Gibson now has his own signature Hooligan Disc… The Yeet
The Yeet is an overstable driver that is good for all players, from beginners to professionals. Hooligan Discs is an up and coming brand that works in partnership with Lonestar discs. So far, they have provided two top-quality discs for you to try. Stay up to date on the uprising of Hooligan because they are bound to make some great new molds.
Flight numbers: 12 | 5 | -1 | 3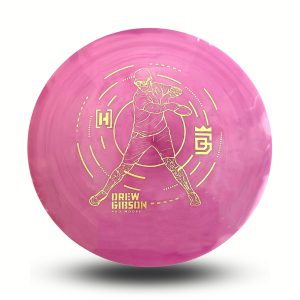 Doomsday Discs
This is a new, up-and-coming disc golf company focused on making plastic to throw during the end of the world. Read our most recent blog post HERE about this company to learn more about their depressing lineup.
Bleak
This is Doomsday's first putter, available in both premium and base plastic. It is straight-flying, and is perfect for off the tee or in the basket. It is an all around great putter, get it here.
Flight numbers: 3 | 4 | -1 | 1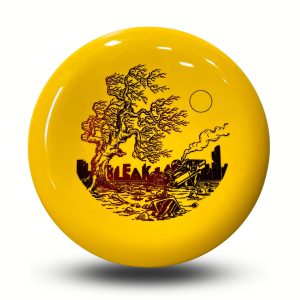 Dystopia
This mold is great for all players, and has little turn/fade. It also comes in both a base and premium plastic for your preference. Get a Dystopia today, before it's too late.
Flight numbers: 10 | 6 | -1 | 2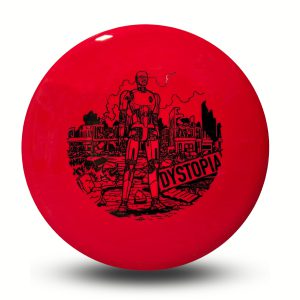 Infinite Discs
Slab
The Metal Flake Slabs have been out of stock for a while, so it feels good to have them back in stock! This run of Metal Flake Slabs is a stock stamp restock
The Slab is a workhorse and can come in handy in a lot of situations. Whether you want a disc that fights the wind or you are in need of a dependable fade, the Slab is for you! Keep a look out this week for the stock stamp edition of this popular mold (Wednesday Midnight California Time).
Flight numbers: 12 | 3 | 0 | 4
Maya
Do you need more distance when throwing? Then the Maya is for you! This is an understable bomber that is great for players of all types.
The Metal Flake Glow plastic was the one released this past week, and people are raving about the feel of this plastic and how well it holds the line they want it on.
Flight numbers: 11 | 5 | -3 | 1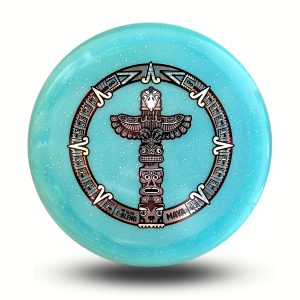 Prodigy
H7
The H7 is a fast, very understable driver from Prodigy. The H7 will be a useful tool for a wide variety of players, but is not likely to be one of there top pros signature discs. It's understability will help beginners and lower arm-speed players throw long turnover shots. Players with more power will achieve hyzerflip turnovers and long rollers.
Flight numbers: 9 | 2 | 1 | 1.9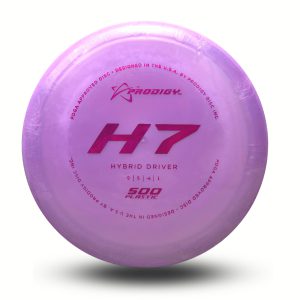 Stryder
This next disc in Prodigy's Collab series – the Stryder. The Prodigy Airborn Stryder is a controllable midrange developed for Cale Leiviska. Cale is a master of throwing the midrange, and now he has one to call his own. The Stryder can handle power and still maintain its point-and-shoot purpose. The Stryder goes straight with a touch of stability at the end.
Flight numbers: 6 |4 | 0 | 3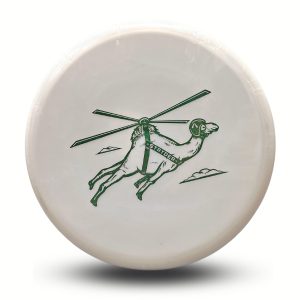 Clash Discs – The Cookie
The Cookie is a straight to stable fairway driver by Clash Discs. It offers a reliable flight path and can be easily manipulated to hold different angles. Clash Discs designed the disc to have just enough torque resistance so it is also a great choice for forehand players.
Flight numbers: 7 | 5 | 0 | 2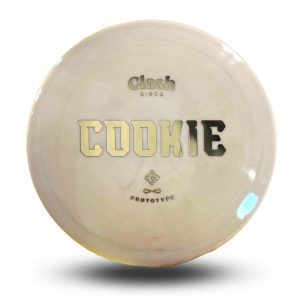 MVP/Axiom/Streamline
Tesla
The Tesla has a slight turn and reliable fade, but they also help players gain maximum distance. Some say it is the "big brother" of the Volt, another acclaimed fairway driver.
Flight numbers: 10 | 4 | -0.5 | 2
Jet – Proton SL
The Jet is an easy to throw understable distance driver for everyone. It works well as a big turnover disc, a hyzer-flip machine, or a straight flying driver; all depending on your arm speed. This is an understable compliment to the Trace, filling a much needed spot in your bag.
Flight numbers: 11 | 5 | -3 | 2
Insanity
The Insanity is Axiom's first distance/control driver with a 20mm rim width. This disc is slightly less stable than the ultra popular MVP Inertia. If you're looking for a straight flying GYRO driver with loads of attractive color options, you might as well try Insanity.
Flight numbers: 9 | 5 | -2 |1.5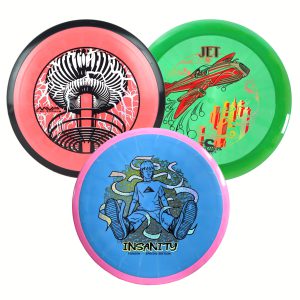 Guru Discs – Glacier Line
Night Trooper
The Guru Night Trooper is an easy to throw fairway driver designed to give new disc golfers maximum distance and control.
Flight numbers: 7 | 6 | 0 |2
Mad Mission
The Guru Mad Mission is a stable flying approach midrange with a flat top and thin rim. This disc excels for short drives and consistent approach shots.
Flight numbers: 3 | 3 | 0 |2
Short Slacker
When thrown with high speeds the Short Slacker exhibits a significant amount of high speed turn for gliding S-Curve flight paths. New players will find that the Short Slacker has a significant amount of low speed end of flight fade.
Flight numbers: 11 | 5 | -1 |2