New Zuca Cart Accessory – Power Pocket Pouch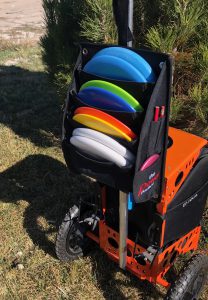 The Power Pocket Pouch is a new addition to the disc golf cart accessories. This pouch is designed to make your go-to discs readily available along with some other course essentials.
It will hold 4-8 discs, your cellphone and/or wallet, a clipboard, pencils, and a mini. There are even Grommets so that you can hang towels from it. You attach this to the telescoping handle of your cart. There are two Velcro tabs that will attach the pouch to the pole, and an adjustable strap that will attach to the cart's handle. This way the pouch remains in the same spot without sliding down the pole. This is available for purchase at InfiniteDiscs.com for $37.99.
This pouch works on a variety of different disc golf cart types or can even be attached to an ordinary backpack. View this video for the full details and functionality.