Six New Disc Golf Drivers for the Summer of 2017

Heading into the summer months of 2017, we've seen a good number of new drivers from different disc brands, vying for attention. Let's take a look at six of them, which just scratches the surface when it comes to new drivers for the year, but these should give you a place to start if you want to add something new to your bag when it comes to distance.
Prodigy X4 – Slightly Understable for Huge Distance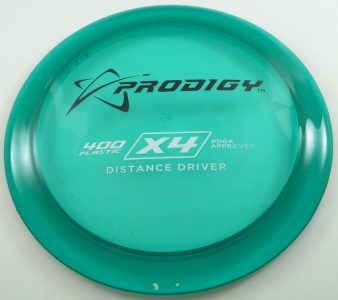 Let's kick off this overview with one of my personal favorites, the Prodigy X4. I thought that the line of "X" drivers from Prodigy had been abandoned when the beefy, overstable X1 seemingly vanished from production, but alas, along came the new X4 for summer of 2017. It is the much more understable installment in the X Series, which has now been joined by the more manageable overstable X2 as well.
The X4, while being generally straight-to-understable, can handle the torque associated with high-power throws. It pulls very nicely to the understable side, but still provides and end-fade to get some serious distance, while not straying too far in one direction or the other. The X4 works well even for lower powered throws as a distance driver with dependable fade, but can be thrown at high speeds for wonderful distance results. It is hyped as a great driver for tunnel shots, though I found that the S-Curve flight characteristics would require a fairly wide "tunnel." This is the kind of disc that I can have fun taking to a large fairway and just ripping it as hard as possible without sacrificing too much in the way of accuracy.
I have a feeling that the X4 will become the top-selling disc in the X Series since it is not "too much disc" for the largest demographic of throwers who can toss in the 250-350 foot range, but is also fun for those who want to push it over 400 feet.
The Punisher – A Disc for the Power Throwers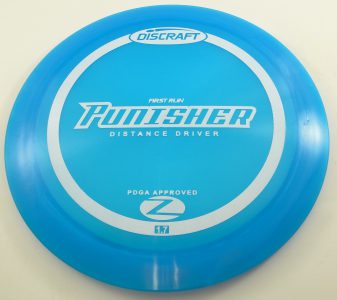 Discraft has kicked off 2017 with a couple of beefy, overstable drivers for experienced power throwers, and the Punisher is the latest. First of all, the Machete was introduced as a highly overstable fairway driver for forehand throwers and wind-fighting, then the Punisher was released as an overstable distance driver to push the limits for power drives.
Discraft has often held an image as being a very beginner-friendly brand, using only a one-number stability rating and making discs that are manageable and even easy to throw for new players and the huge intermediate market. Of course, they have put out more advanced discs, but they are readily recognized for popular "easy throw" discs like the Avenger SS, the Buzzz, the Comet, the Heat, the Stratus, the Thrasher, and the new Archer. In 2017, Discraft seems to be interested in expanding that image into the competitive advanced and professional market.
A disc like the Punisher is much more difficult to throw as a novice, and it really takes some power to get impressive distance. It could fight head winds for a straighter result, but still requires a strong release. After a few throws, I felt like the Punisher was a Discraft answer to powerhouse distance drivers like the Innova Destroyer, with a manageable rim size– a 2.2cm rim, rather than the ultra-wide 2.5cm rimmed Nuke series. It's a disc that I could see professional players actually carrying in their bags.
The Mayhem – Pretty in Flight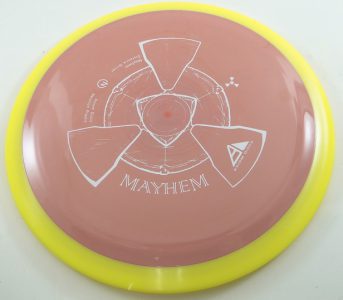 Axiom is a spin-off sister company to MVP, and the discs from the two brands often seem to mirror each other. The Mayhem is the first in the 23mm (wide rim) distance driver series for Axiom, following up last year's 23mm distance driver releases from MVP. It is meant to be a high-speed distance driver that lands somewhere between the stability of the MVP Octane and the MVP Catalyst, with the Catalyst being the most understable of the two.
After field testing the Mayhem, I had a really hard time telling the difference between its flight characteristics and those of its MVP cousins. That isn't saying that the results weren't great, because the Mayhem is a very good distance driver with reliable and predictable fade, but it didn't feel like a new disc. When it comes to Axiom, one of the great appeals is the combination of plate and rim colors and the often striking multi-color stamp editions that are often released. They are basically MVP discs that look more "pretty" if you want to throw with decorative style.
The Mayhem may have a name that sounds somewhat threatening, but the flight attributes of the disc are really not very threatening. I wouldn't recommend the disc for new players, since it is indeed a high-speed driver, but it really isn't too much disc for most intermediate players who should find the Mayhem to be an excellent driver off the tee.
The Drifter – A General Purpose Driver for All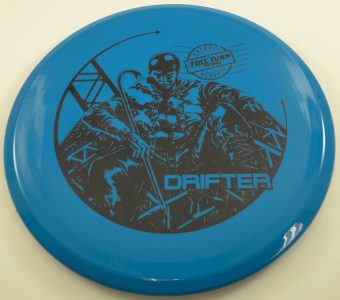 Now let's take a moment to recognize a new driver from a very young disc golf company, Full Turn Discs.  Full Turn is new on the scene and is still building the foundation of their brand. The Drifter is their 2017 driver release, and it is focused on a very large chunk of the disc golf market. Many players tend to be able to handle discs in the "speed 9" range, which is the no-man's land between fairway and distance driver. For a lot of players, that is about as fast as they can handle and still get respectable distance in the 200ft to 300ft range. The Drifter can easily manage those distances without too much exaggeration on the understable side or on the fade. It is a somewhat neutral disc that allows players to learn good throwing technique, rather than focusing on discs that minimize their throwing weaknesses.
Full Turn discs are manufactured with the same plastic blends as the popular Finnish brand, Prodiscus, and the grippy premium plastics feel very good in the hand. The Drifter is comfortable and accessible and has the potential to be a workhorse driver for players at many levels.
The Fortress – You Should Expect Strength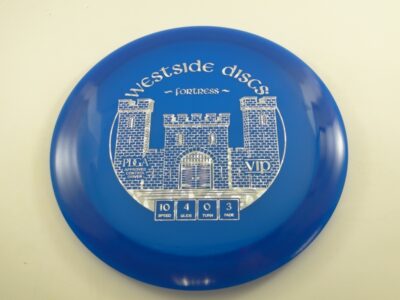 Westside is part of the Trilogy collaboration of brands and is known for their popular distance drivers like the Destiny, the King, the World, and the Catapult, among others. The Fortress is the newest addition to the family, and it is very fitting of its name– it is not a disc for the weak. While flight ratings on Westside drivers can sometimes seem a little bit off-base when compared to other brands who use the same 4-digit system, the Fortress seems to be right on point. It takes power as a "speed 10" to get the distance, especially since it has no understable turn and wants to fade as soon as the velocity drops in the slightest. This is a disc for experienced players who want to navigate around objects, fight a head wind, or who simply throw with a lot of power, but aren't looking for maximum distance. The Fortress is very serviceable for forehand throwers who generally need more stability.
Don't hand this disc to a beginner or they might quickly become disenchanted with the sport of disc golf. It it more designed for the intermediate to advanced players who have an overstable slot in their bag that needs filling.
The Teleport – A Driver for the Sake of Sheer Distance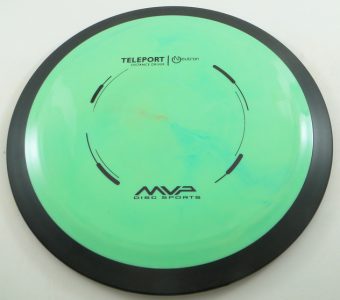 The first maximum rim-width distance driver from MVP is the Teleport, and it hits the disc golf scene with something that a lot of players can't resist– sheer distance. Now don't get me wrong– you won't be able to flick your wrist and watch this thing fly a mile. With a rim (wing) this size, you need to put a lot of speed behind the Teleport, but if you get it released just right, without letting it go too high, this thing will really get out there! It was a fun disc to field test!
MVP has argued since their inception that the "Gyro" (trademark) overmold disc design is just plain better, creating extra glide and control that is not present in traditional discs. I'm not sure I completely buy into the idea or understand the science behind it, because I've been able to throw traditional single-mold discs with just as much or more success than overmolds. But whatever they did with the Teleport seems to have given it a fun little turbo-boost.
I wasn't able to get maximum distance with every throw, but when I released one "just right" it was fun to watch. The stability tuning was just right for a disc that is designed as a bomber without being too advanced for most players. Though the rim is definitely wide and may bother those who use a power-grip, I personally hold my drivers in a loose grip, so the wide rim didn't bother me. The Teleport flies pretty darn straight for being a high-speed distance driver, if you can find a way to handle that rim. It is going to be a disc that a lot of players want to try. For some it will be a struggle, just because it needs a powerful release, but for others, the Teleport will be a disc they'll want to throw again and again.
Keep your eyes open and your hands ready to grab onto other new disc golf drivers that are undoubtedly heading our way!