The Mach Shift 3-in-1 Portable Practice Basket from DGA
DGA has always been a solid manufacturer in the portable basket market. Here at Infinite Discs, we have seen steady sales when it comes to the excellent, high-quality DGA Mach Lite collapsible basket which is very easy to set up, take down, and carry around when on the go. So it isn't a surprise to see DGA push the envelope in their design and creativity for their newest portable basket, the MACH SHIFT.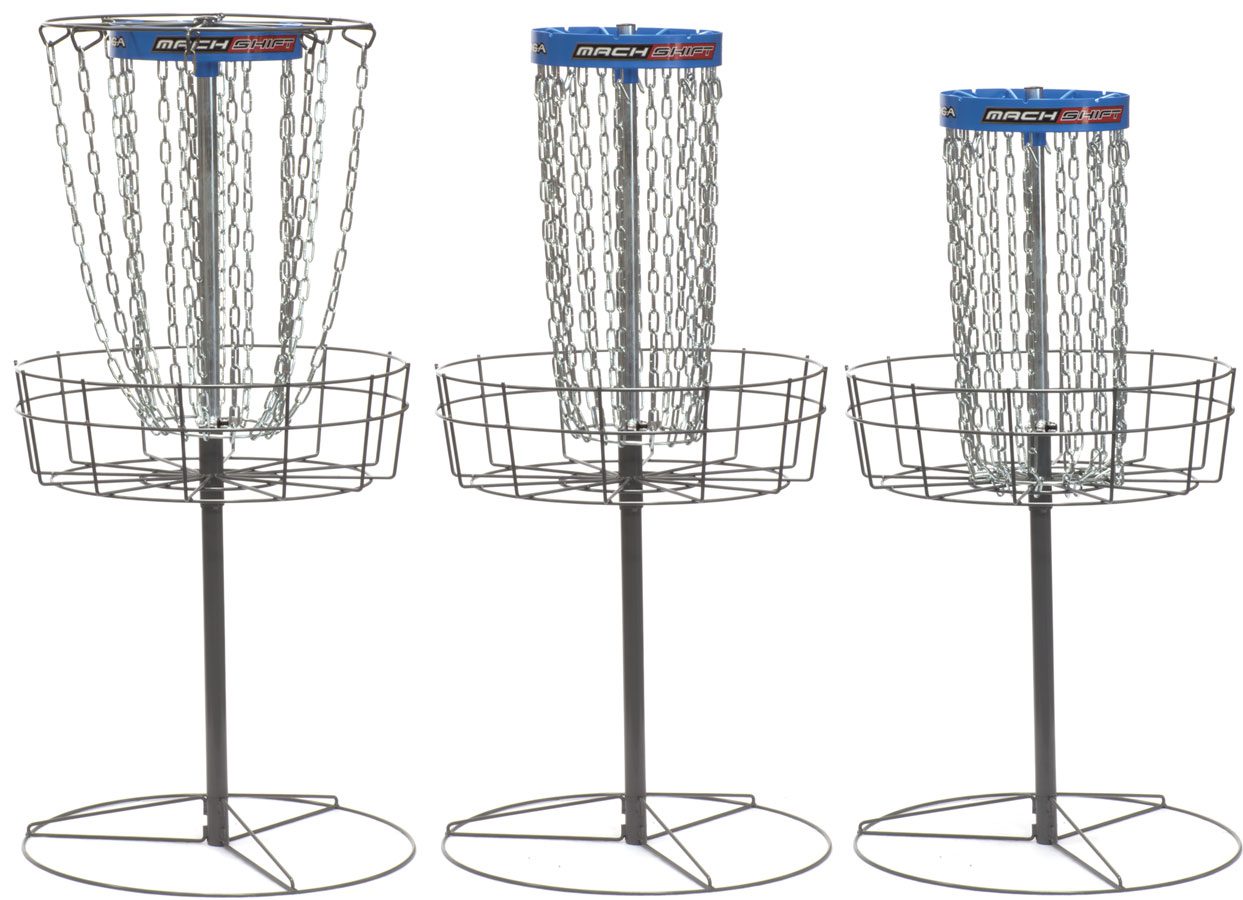 THREE QUALITY BASKETS IN ONE
The Mach Shift portable basket has three different catching positions:
Standard Shift Position: This is the standard basket configuration with two rows of chains.
Advanced Shift Position: All chains hang from the center 12-inch inner chain holder and the outer chain holder is removed, making a narrow practice basket.
Pro Shift Position: For added challenge, the outer chain holder is removed and the chain assembly lowers using the telescoping pole, locking into the new , smaller position.
These three settings allow the player to use the basket in multiple ways, from standard play, or as a narrow putting practice basket (similar to the MVP Black Hole Precision, or the Dynamic Discs Marksman), or even as a "macro" basket for play with throwable mini discs like the Junior Judge or the Mini Buzzz. But you don't need to buy multiple baskets for those different purposes– only one!
The Mach Shift also comes with high-quality, gunmetal grey, powder coated base, lower pole section, trapper basket, and outer chain assembly. The upper, retracting pole is weather resistant, silver zinc coated and the top inner chain holder band has a durable, powder coated finish in either blue or white. So it both looks good and is durable for long life, all for a price tag well under $200!
The Mach Shift will begin shipping in December of 2107, just in time for holiday gift-giving. It can be pre-ordered in advance to make sure that it arrives as soon as possible.