TOP TWENTY TUESDAY – DECEMBER 4TH 2018

Infinite Discs is happy to present the weekly blog post called TOP TWENTY TUESDAY where we let you know about the short-term sales trends for discs. We'll show the sales figures from the previous Tuesday through the most recent Monday.
New discs will often spike in the chart as other top sellers shuffle spots. It can be fun to see which discs keep up the pace. These will also be broken down by plastic types, so the same model can show up in multiple plastics.
THIS REPORT INCLUDES THE SALES FROM BLACK FRIDAY SALES – TWO WEEKS OF DISC SALES.  Here we go…
Top Twenty Tuesday for DECEMBER 4th, 2018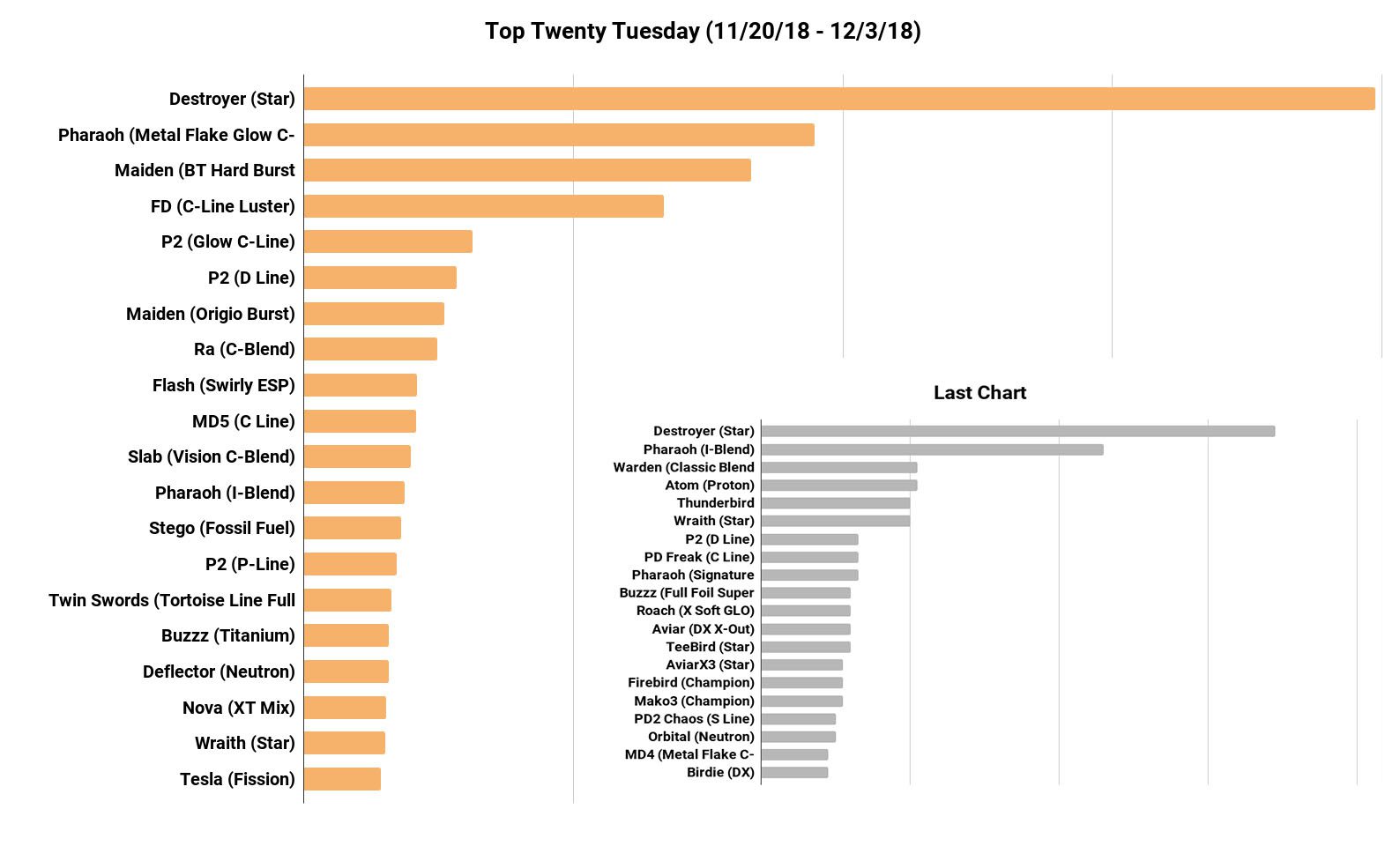 The chart covering the last two weeks of sales at Infinite Discs is HIGHLY influenced by Black Friday deals that carried through an entire week of sales and special disc releases. The Star Destroyer held the number one spot with several special edition stamps on black Destroyers released on Black Friday. The 2nd place spot goes to the Metal Flake Glow C-Blend Pharaoh which really got a lot of love with the cool combination of colored glow and metal flake in the plastic blend, plus the XXL stamp designed by Thought Space Athletics. In a strong 3rd place showing was the limited run of BT Hard Burst Moonshine (glow) MAIDEN putters– a run that was made especially for Infinite Discs. The original Origio Burst Maiden also had a great showing at #7, showing that this latest putter from Westside disc has been a big attention-grabber since it was featured in the 2018 Trilogy Challenge tournaments.
Also with big showings due to special editions, the C-Line Luster FD and Glow C-Line P2 discs from Discmania were a big hit, as were the special run of Swirly ESP Flash discs– an older Discraft mold that many players have been missing since it was discontinued. The Stego by Reptilian Disc Gold and the full-color Twin Swords by Yikun made strong showings for smaller brands. Infinite Discs also saw the new release of the C-Blend RA with the XXL stamp his #8 and the Vision C-Blend (full color) SLAB hit the number #11 spot with its dramatic stamp image which was placed to leave a grip edge around the outside top of the flight plate.
–> Each week we'll invite you to leave a prediction for a certain chart position on next week's TOP TWENTY TUESDAY report. The first three people to predict that chart position correctly in the comments will win a $15 gift card for the Infinite Discs website.
WINNER! – We didn't get a lot of guesses for this week's #2 position, but we do have a winner. Garrett Colwell declared "Metal flake pharaoh all the way up!" and that is close enough to "Metal Flake Glow C-Blend Pharaoh" that we're handing him the win. Congratulations Garrett!
GIFT CARD PREDICTION FOR NEXT WEEK:  Leave your comment below this blog to predict the #5 spot for next week's "Top Twenty Tuesday" chart.  Have fun!