What Disc Golf Accessories Do We Own
2021 State of Disc Golf
What Accessories Do We Own
One of the benefits of our sport is that it is relatively inexpensive to get started. A beginner who wants to play casually can get a few base-plastic discs and find a course that is free to play. For $20, you could be set for the summer. Even if you opt for premium plastics and a small bag, you could keep your expenses under $50. Compared to ball golf or many other sports, that is a bargain! Plus, that easy entry into the sport contributes to its growth. Even if you are buying discs for the whole family, it's still a cheap hobby.
Once we've been playing for very long at all, we start considering some of the other disc golf related items we could use when we play. A mini is a necessity if you play tournaments and even leagues. Towels are nice in case our discs or our hands get damp. Maybe a bigger bag? Or how about jumping up to a cart? While disc golf CAN be played inexpensively, one can also spend a lot of money upgrading to the best discs, bags, and many varieties of accessories and apparel. For the 2021 State of Disc Golf survey, we wanted to see what disc golf paraphernalia was the most popular. We asked about accessories, apparel, water bottles, and what we use to haul our gear around. Let's take a look at what items were the most popular.
Accessories
In the survey, we listed popular accessories and asked how many of them we own. Not too surprising that the number one answer was a plastic mini. Number seven is a premium mini (made out of wood, glass, etc.). Although there were a lot of people who indicated that they own both a plastic and a premium mini. The bottom line is that nearly all of us have a mini of one kind or another. If you play in a sanctioned event, you really NEED a mini. That need, along with the fact that the regularly show up in player's packs, makes it easy to see why the mini is number one. Here are the results: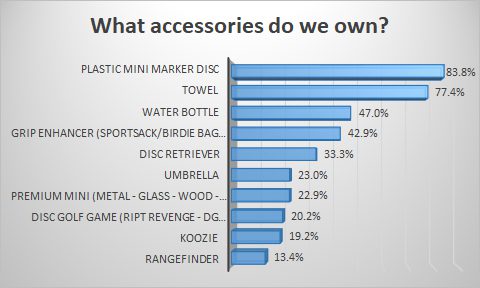 When I consider what accessories I own, and what I see my buddies use, most of these numbers look right. There is one that looks glaringly wrong: the ubiquitous water bottle. Less than half of us own a water bottle? It wouldn't have surprised me if the water bottle were the number one accessory. I know a few golfers that use bladders, similar to the CamelBak. But that doesn't account for what I consider to be a lot smaller percentage of people who indicate they don't own a water bottle, than what I see on the course.
More Accessories
Towels and grip enhancers are two more items that I see enough on the disc golf course that it is not surprising to see them at the top of the list. Rounding out the list is an item that we've been see a lot more advertising for in the past few years: the rangefinder. I see a lot more of these in use than even a year ago. With less expensive options like the Apex Rangefinder, it is easier to justify getting one.
Water Bottles
Speaking of water bottles, we also asked in the survey what kind of water bottles. Jesse from Trash Panda Disc Golf will be happy to hear that over 80% of us prefer reusable water bottles. (To see what Jesse is doing for sustainable disc golf, check out our blog post featuring Jesse here). Like so many of us have discovered, the double-wall insulated water bottles are the most effective at keeping your beverages cold. Pro tip: you CAN put too much ice in these types of water bottles and end up with nothing but ice after you drink all the liquid. That's a bummer on a hot day. Experiment with the level of ice to see what works best for your water bottle. Here are the results: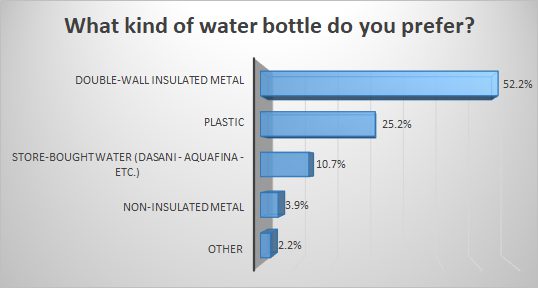 Apparel
Whether you are talking about a sports team, shoe company, favorite band, or YouTube celebrity, many of us like to show our loyalty by wearing apparel from the companies, individual, or groups that we support. It's no different with disc golfers, so we asked in the survey what branded apparel we own? I would have thought that tee shirts and hats would have been at the top of the list, but I would have bet on hats being the number one choice. Here are the results: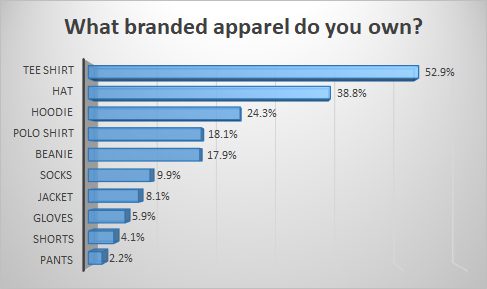 In addition to tee shirts and hats, rounding out the top five are hoodies, polo shirts, and beanies. Personally, I have everything on the list but a branded jacket, shorts, and pants. The percentages listed in the results represent 2/3 of us. Slightly over 33% of us indicated that we don't own branded apparel of any kind on the list. That's surprising, given how frequently these items show up in player's packs.
Hauling Discs Around
The final category we'll look at today is how we carry our discs. We let people choose all that apply to them, so the percentages add up to more than 100%. Taking the top spot is the popular backpack bag. We don't have to play disc golf for long before we have enough discs and accessories to justify getting a backpack bag. They are great for casual rounds and multi-day tournaments. Some golfers even get a cart that can hold their backpack bag, to use on cart-friendly courses. Over 77% of us have a backpack bag. That's more than three times the second most popular choice, the small bag with a single strap. Here are all of the results:
Only about 1% of us don't use a bag or cart. And 5% of us use some kind of bag we've repurposed for disc golf. Everyone else has at least a small bag. About 20 % of us have a cart of some kind.  Only about 11% of us use a large style bag.
Comment Below
What is your most important accessory? The one thing you couldn't imagine playing disc golf without? Let us know in the comments below and we can see what accessory you value the most.