Best-Selling Disc Golf Backpacks of Summer 2016

We often look with great interest at the best-selling disc golf discs for given periods of time. Best-sellers of the summer. Best-sellers of the year. Best-sellers of the quarter, etc. It is about time that we take a look at some of the hottest selling backpack bags from the summer of 2016.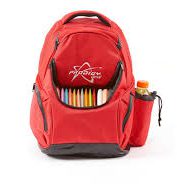 #1 – Prodigy BP-3 Backpack – The number one spot was quickly claimed by a new backpack, the BP-3, that came out near the end of the summer. It flew of the shelves and onto the backs of players for one simple reason: The PRICE was right at only $29.99!  The sales numbers would have been higher, but they sold out at Prodigy's warehouse. The BP-3 certainly fills a niche for players who want to use a backpack, but always found the price a bit higher than they wanted to pay. It has very basic features, but is certainly serviceable for casual play. It can even be used for hiking or camping, or as a school backpack. At that price, why not?
#2 – Dynamic Discs Commander – The second place spot goes to the Commander which it a high-end bag that lands in the reasonable $120 range. It has become a popular backpack with players who like a compact feel and the sturdy nature of the bag. The "Black Ops" edition recently came out with a blackened stars-and-stripes theme.
#3 – Dynamic Discs Sniper Backpack – Once again, price plays a factor in the sales for the Sniper backpack by Dynamic Discs. At $69.99 it is an affordable and dependable pack that gets the job done. It holds 16 discs in the main compartment plus has dual water bottle pockets. Perfect for a casual tournament round.
#4 – Innova Heropack – The Heropack is Innova's more affordable, entry-level backpack at $89.99. It comes in a large variety of colors and it holds upwards of 25 discs plus putter pockets on the top and front of the bag. It also includes extra accessory pockets and a drink holder. It is a very well-rounded bag for the price.
#5 – MVP Voyager – The new Voyager takes the number five spot as another end-of-summer release. It is the newest backpack offering from MVP. It features a heavy duty padded back and straps for support, plus putter pocket, large upper compartment for storage, plus drink holders, accessory pockets, and straps for a stool, etc. It is a bag that competes on a professional level and sells for $139.95.
Those were the top-selling bags at Infinite Discs for the summer of 2016. It will be fun to see which backpacks get the most traction heading into the holiday season. Have fun out there!