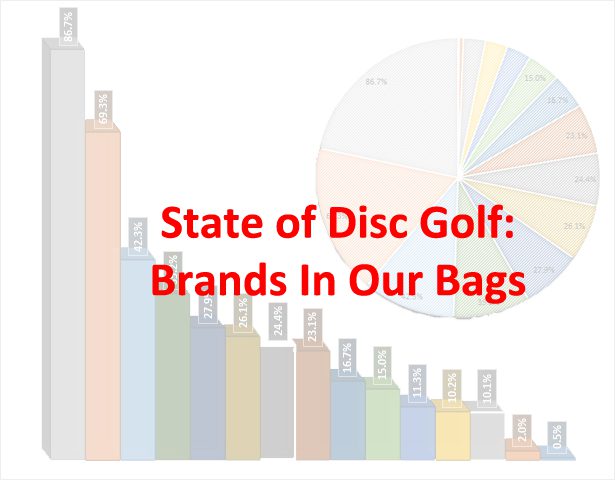 There was a time early in my disc golf 'career' that I threw only one brand. It was a conscious decision and every disc I threw was an Innova disc. Eventually, I started adding other brands to my bag, and it became much more diverse. As I starting throwing more Infinite molds I really liked the feel of the I-Blend plastic, as well as the S-Blend, and started replacing my go-to molds with Infinite molds. From then on, I started throw any brand on the market. The majority of the brands in my bag are Innova and Infinite, but I also have discs from many other companies, including Elevation Disc Golf and Thought Space Athletics. I like it that way.
From what I see in disc golf, most of us throw a variety of brands, even if we have a favorite. It is fun and interesting to throw discs that are new to us, and fun to try new plastic types.  Even though most discs we experiment with won't make it into our bags, some do. And some make a difference in our confidence and our game. Our choices of regular throwers is what this week's blog is about.
Brands We Throw
In this blog we will look at the State of Disc Golf Survey to find out about the brands we throw. We will check out a few factors that might affect which brands we throw. We will also look at the brands we know about. Let's get to the survey results.
Since most of us throw a mixed bag, in order to find out which brands are bagged the most we asked simply, "Which of the following brands are included in your bag?" Our checklist included all of the big brands, most of the smaller brands, and even some tiny brands with only a few molds. Survey participants could also write in any other brands we didn't include. Here is a graph of the results: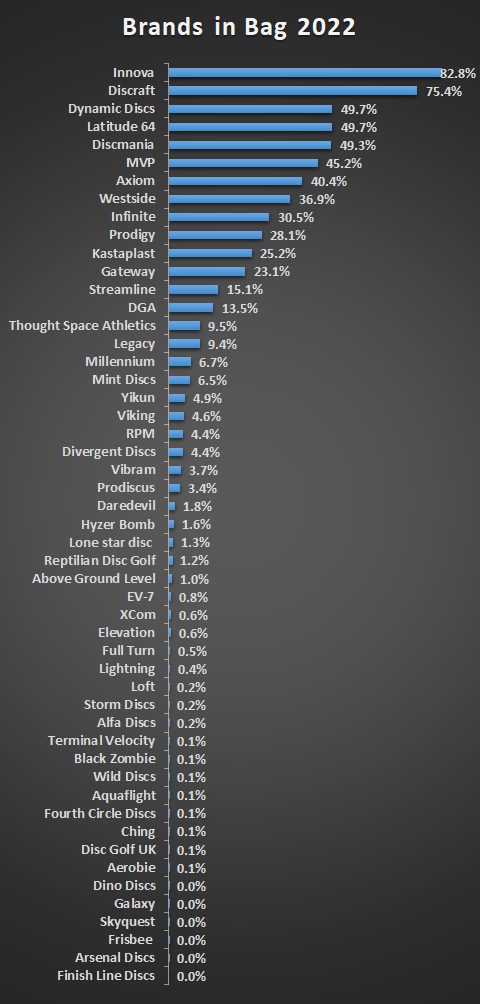 You could probably have guessed which brands would land in the top two spots. Innova, the perennial champion, and Discraft, home to arguably the best MPO and FPO players on the planet. As we'll see shortly, Discraft doesn't always fill the runner-up spot. But they are always in the mix. And they are followed by many of the 'usual suspects'. Let's see the order of popularity of the top brands in 2018: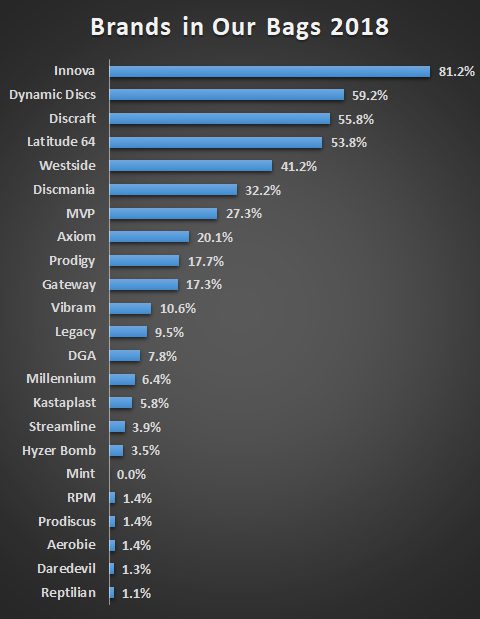 Innova has a surprisingly similar percentage of us who bagged their brand in 2018. They still had the lead with 81.2% of us carrying their brand, versus 82.8% of us bagging Innova last year. Dynamic Discs held the second place spot, with Discraft rounding out the podium. The jump in numbers that Discraft made from 2018 to last year could very well be attributed to the aforementioned GOATS, and some new molds. And the jump was supported by a couple of staple molds, the Buzzz and Zone.
I pulled up a graph of the 2015 results of the same survey question. The top brands look similar to this year's survey results. Some of the smaller brands percentages have changed a lot. Vibram, who stopped making discs in 2018, was in 16.7% of our bags in 2015. Last year only 3.7% of us still bagged the rubber discs. (Just last year Vibram started releasing some of their older molds in a new rubber blend.)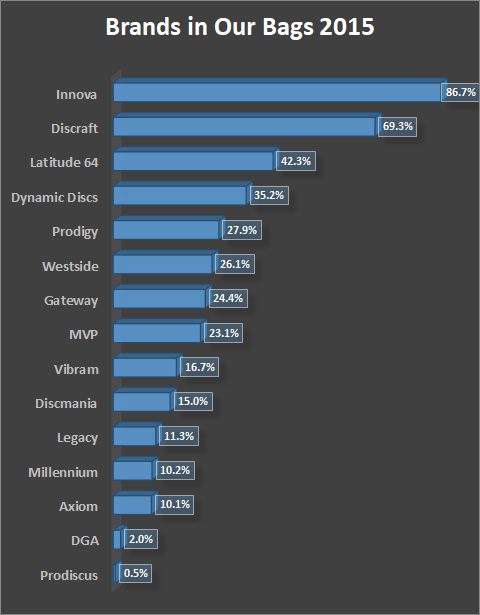 Brands Thrown By Pro/Am's
I wanted to use the data we have to see if there was a difference in bagged brands between skills levels. I took the least-experienced players, Beginner/Recreational disc golfers, and compared them with Professionals. I don't know how many of the professional players are sponsored, thus limiting their choice of brand (except Infinite Discs sponsored players who, can throw any brand!), but it is probably a small amount of survey respondents. Here are the graphs of the top 15 brands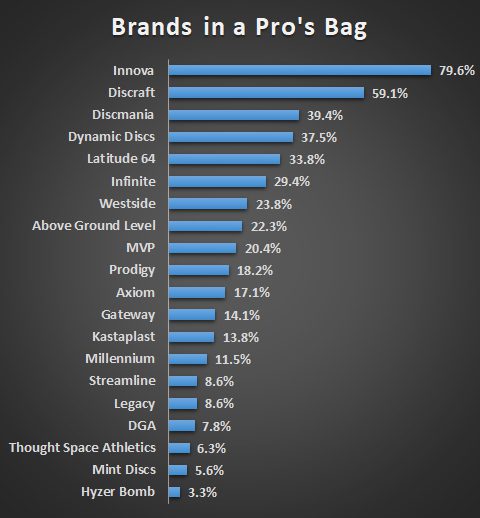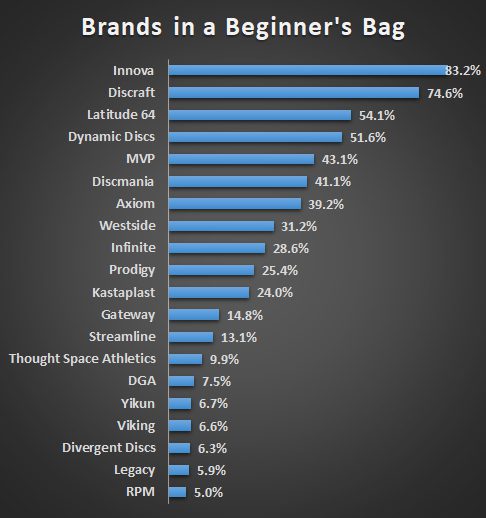 Naturally, the top two spots for each skill level are the same for each skill level. After that, the brands and percentages vary. It appears that the pros throw fewer different brands than beginners. That is probably less about sponsorships and more about only throwing a few molds, and having multiples of those molds.
Top Selling Brands at Infinite
To give you a comparison of what brands are in your bag versus which brands we sell the most, here is a graph showing the breakdown by brand of all the discs we sold last year. Keep in mind that Covid affected those numbers. Even so, the leaders are still the biggest, oldest brands in the business. With a few exceptions.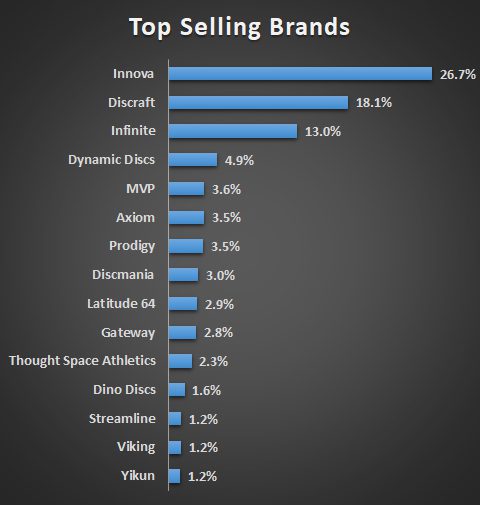 Brand Familiarity
We are always curious how many people are familiar with certain brands, particularly the smaller ones. This has never been truer than the last couple of years. With so many new brands and molds coming to the market, it has been hard even for us to keep track of all of them. In the survey we asked how familiar you are with the brands on our list. Survey participants could rank their familiarity from 1 ('Not Aware of Them'), to 5 ('Regularly Follow Them'). Here are the results, sorted by brand familiarity.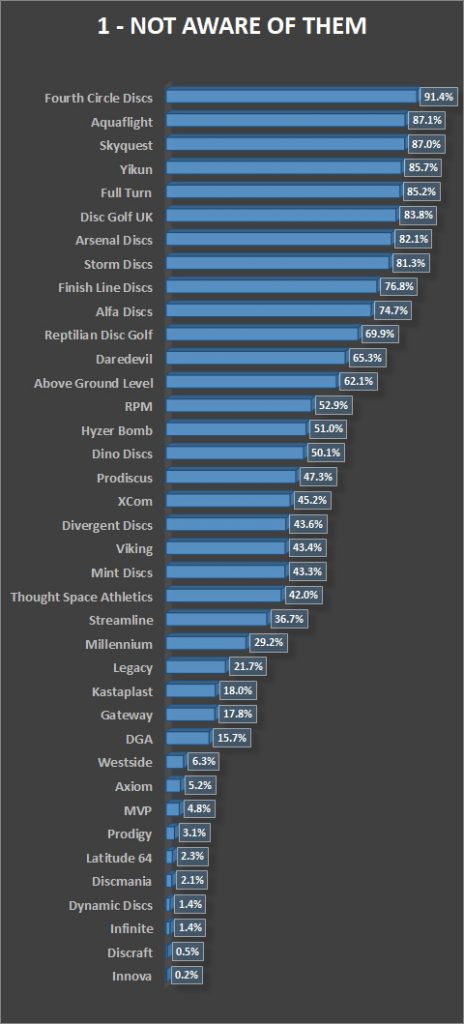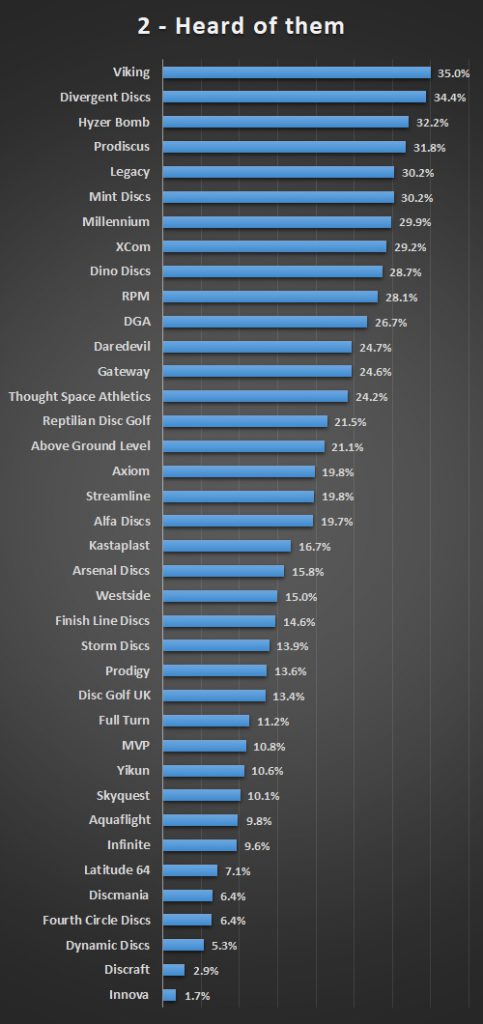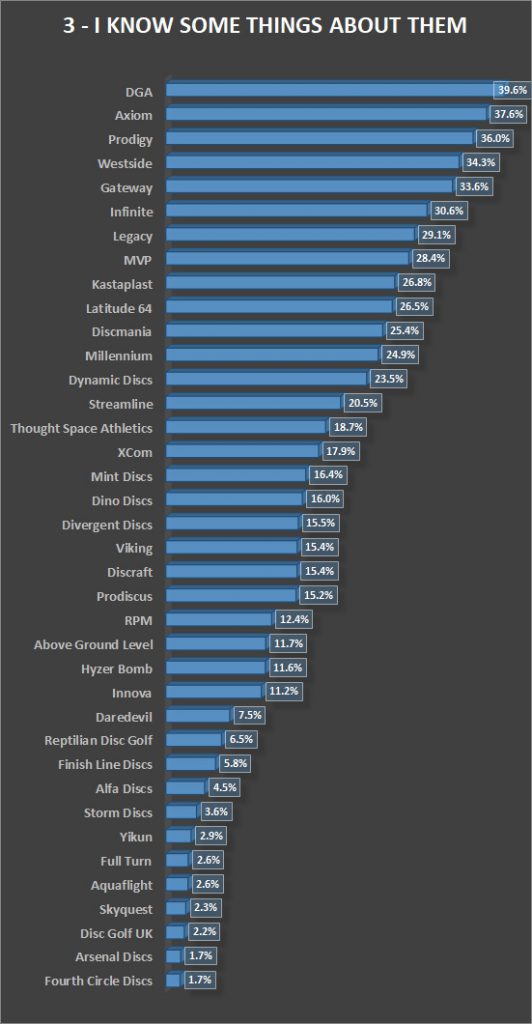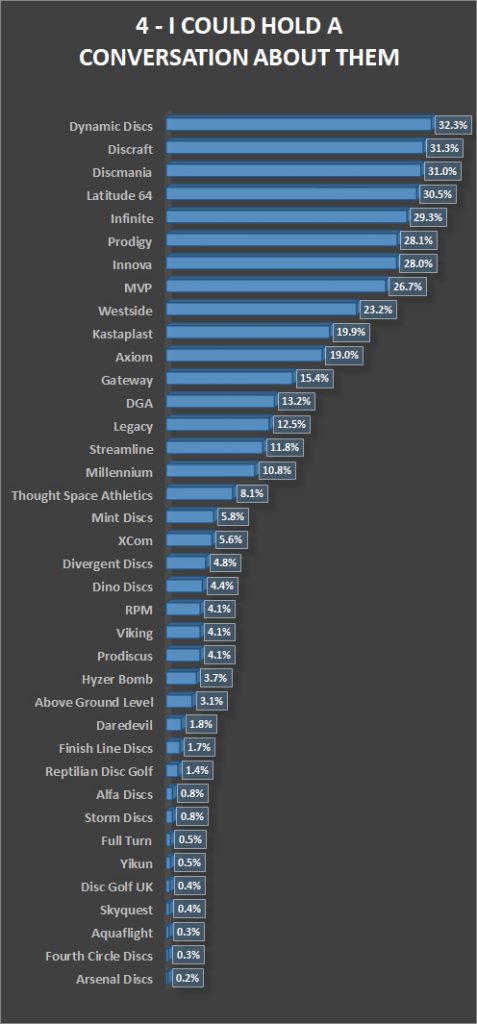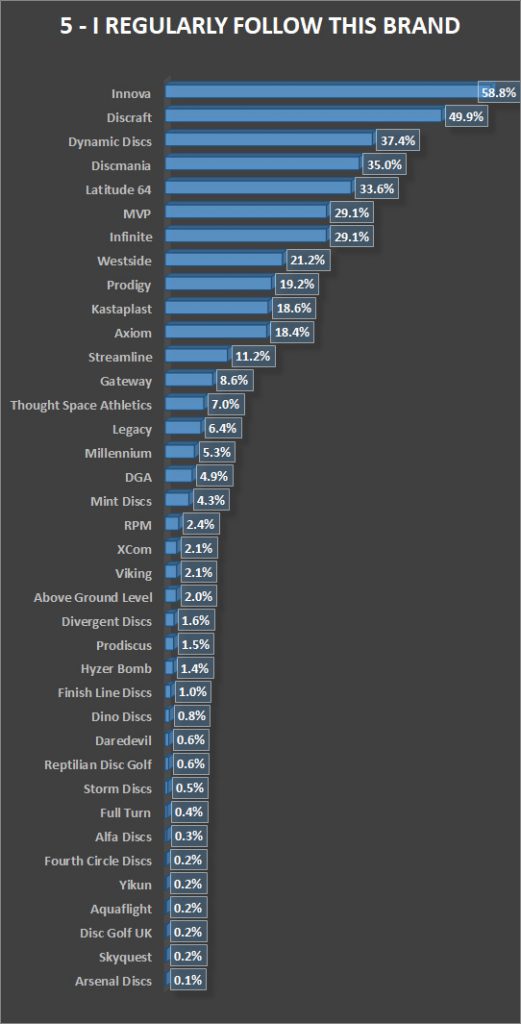 Single Brands In Our Bags
At one end of the mixed-bag extreme, we had people who indicated that they have over 30 different brands in their bag. That sounds like an intentional choice, but since there is great plastic and molds from tons of manufacturers, someone could make that their goal and still have many discs to choose from.
At the other end of the spectrum are the people who, like I used to be, only throw one brand. I wanted to see how many of those people there are, and what single brand they throw. So, I ran the numbers and here is what I learned.
Of the 7709 people who took the survey, 261 of us have single-brand bags. That is just over 3% of us who are loyal to one brand. Here is a chart showing the brand name, and the number of us who bag only that brand. While the top two brands will surprise no one, it's kind of nice to see some of the smaller brands have such loyal fans.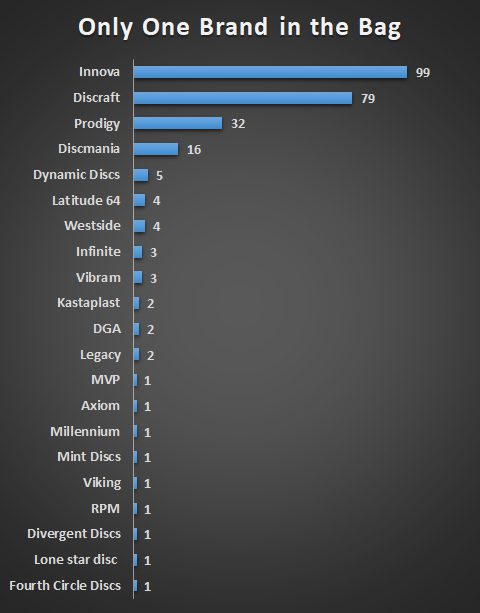 An extra shout-out to the handful of people who bag only Infinite Discs!
Tune in next week when we'll feature more results from the State of Disc Golf survey.