Infinite Discs Presents RPM Discs from New Zealand

Here at Infinite Discs, we're always excited to discover new disc makers, especially when they are quality companies from outside the USA. Of course, we love the home-grown American companies too, but there is something a little bit exotic about importing some really cool discs from across the ocean.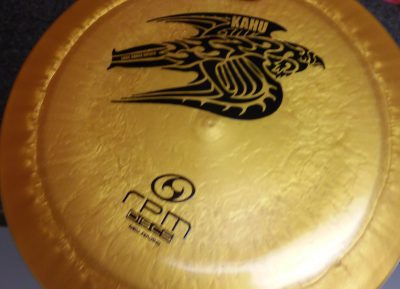 In August we were able to bring in our first batch of discs from RPM Discs, a great disc golf company from New Zealand. At first inspection, the discs looked absolutely beautiful right out of the box, with a quality appearance to the plastic that is instantly eye-catching, embellished with some great, Maori flavored stamps. There was a nice mix of attractive, metallic plastics, and softer, pastel plastics. They all felt great, with the perfect mix of durability and "grippy" touch. Let's take a look at the three plastic types present by RPM Discs.
Strata plastic is the "base plastic" blend. It is the least expensive and the softest. It still doesn't feel "cheap" as it has a comfortable feel and has a little shine to it. It doesn't seem as destructible as some of the soft plastics out there. Of course, the TUI putter would be the disc that most players would want in base plastic, since putters are most often sold in softer plastic types.
There are two premium plastic types, and both are priced the same. The difference is mostly in the appearance, with the Cosmic Plastic being more translucent (see-through) and the Atomic Plastic being more creamy and opaque.
You could think of Cosmic as being similar to Champion, Opto, VIP, or Elite Z. The Atomic could be compared more to Gold Line, Tournament, Star, or Titanium.  However, I would emphasize that the actual feel of the plastic is not very different between the two. At first touch, they seem interchangeable when it comes to the feel of the plastic. It's more the appearance that makes the difference.
RPM Discs has some very nice plastics, and you will by no means feel cheated when paying for either a base or premium plastic because you know when you grip it that you've purchased a solid, quality product.
Next, let's take a look at the discs that make up the introductory core of the RPM Discs operation.
First of all, the putter is called the TUI and it has a unique profile which feels more like a mid-range disc when you first pick it up.  The profile is pretty low, meaning that the inside pocket is not deep and the rim edges are not tall. In that way, it almost feels more like a driving putter, and in quick field tests, we found that it can actually fly well when thrown with a little steam, especially for anhyzer turns. It flies straight for close-range shots, which is what you'd want in a putter. It has a bead on the rim edge, so the closest comparison would probably be to a beaded version of a Dart.
Next up, there is the PIWAKAWAKA (sorry, no pronunciation guide– just go with your heart). It is a mid-range disc that flies as straight as an arrow. It can even take some heat and not flip over too dramatically. It is not quite as chunky as the extremely popular Buzzz, but the flight is similar. The rim is a bit more dainty than some of the mid-range discs out there, which can make it more comfortable for smaller hands. It is certainly a finesse disc, designed for getting your disc predictably from point A to point B when you don't have to worry about a winding path. All in all, it is a solid mid-range disc and won't disappoint when it comes to short-range fairway needs.
Of course, every disc producer needs a beginner-friendly, easy-to-throw fairway driver, and that is where the TANIWHA comes into play. It's still rated as a speed 10, which lands it more into the "distance driver" category for most players, but it is pitched as the "control driver" of the bunch. It would be comparable to a Valkyrie as far as beginner-friendly drivers go. It is rated as 10, 5, -2, 2.
Then there is the bomber driver for the more powerful arms, and that is the KAHU.  The Kahu is an overstable, speed 13 distance driver. It is RPM's equivalent of the Innova Destroyer, or the Discmania DDx, or the Discraft Force, or the Legacy Outlaw. Break out the big guns when you grab this disc and let it fly. It has a low profile and a relatively sharp edge, so it slices through the air very well. I haven't seen much of a "dome top" on the Kahu discs that came in our shipment. A lot of big throwers like that flat profile.
I admire the fact that RPM Discs didn't feel complete without including a "super class" disc. A lot of disc makers ignore the appeal of oversized discs and the fun new angle that they can bring to the game. Of course, the roots of disc golf are found in what we now call "super class" discs with a larger diameter and slower speed. We've traded in that high-glide, controlled accuracy for sexy, high-speed, small discs. RPM adds to the super class family with the TEMOKO.  This is a larger disc that is PDGA approved for use in disc golf, but could just as easily be used in games of catch-and-throw. It is not as large as Ultimate discs. It is closer to an Innova Zephyr. It's a fun disc and a unique part of the RPM Discs arsenal.
Give RPM Discs a try! Find a spot in your bag for some exotic plastic from New Zealand and you won't regret it!