Infinite Discs RUIN – Overstable Approach Disc

THE CONCEPT
Infinite Discs is very excited to kick-off the 2020 year with a new disc release to help enhance your disc golf short game. We've been working with Innova, the manufacturer of the Infinite Discs line, to create a mold for a small diameter, overstable approach disc. We've noticed that a lot of players, including pro players, have turned from standard mid-range discs to approach discs that have dimensions more like putters. We wanted a disc that would fit that trend, with a relatively flat-top and manageable rim size for both forehand and backhand throwers. We also wanted the disc to be overstable enough that it could be thrown with speed and confidence to hold the line for a longer stretch and still finish with a solid fade.
Maybe you've watched players like Paul McBeth throw the Discraft Zone for shots approaching the basket from a couple hundred feet away. Or you've watched Ricky Wysocki throw some amazing approach shots with the Innova Pig (used to throw the Westside Harp for similar shots). The list could go on, with many players using overstable "putt-and-approach" discs to get through tight fairways or to make runs at the basket from longer distances. That's what we wanted in our own disc line.
THE PROTOTYPE TEST
Several months passed while the mold was created and prepared for a test run. In late 2019 we received a small box of prototype discs from the Innova factory so we could test our overstable approach disc. It was exactly what we were hoping for. The profile was just right with a flat-top that would feel great for forehand approach shots, plus a rim size that was not too tall so that it could also be thrown backhand with comfort.
Some of us at Infinite Discs took the disc out to throw it around and see how it flew. It felt like a great overstable complement to the already popular Infinite Discs Tomb, which is more of a straight-flying approach disc with minimal fade. We could throw the new test disc even harder without turning it over and it had significantly more fade.
We made the remaining prototype discs available to Team Infinite and VIP Club members as "Infinite Proto Mold #15" and those few discs sold out immediately. Our office team sought feedback from outside players who picked up those prototypes, and that feedback was very positive. So, we decided to order a complete run in durable, long-lasting C-Blend plastic (Infinite Discs equivalent to Innova Champion plastic).
COMING UP WITH THE NAME
You may have noticed that the Infinite Discs lineup has been using names that primarily recall ancient cultures. The brand kicked off with ancient Egyptian references, including the Pharaoh, the RA, the Sphinx, etc. Some discs were named after elements that could move across different ancient cultures, like the Myth, the Tomb, or the Chariot.  In the second year, we moved into some ancient Roman names like the Emperor, the Centurion, the Cohort, etc. Our third year is intended to be themed with ancient American cultural names, like with the early release of the Aztec. But with the new approach disc, we again wanted to pick a name that would cross all of the cultures.
Plus, as an overstable approach disc, we thought it should sound dense, or heavy. Well, all of the ancient cultures we know about have left their mark on the landscape through ruins. The heavy, megalithic ruins tend to last the longest and are often more memorable. Whether the ancient pyramids, the ruins of the Roman Empire, or the impressive temples of central and south America, we can still see and visit the remains of those cultures today.
Thus, the RUIN was named and will feature artwork with any number of ancient cultural references. The name was first revealed with the PDGA approval announcement. We found some of the initial reactions to the name to be quite humorous. "This disc is going to RUIN your game," or "this disc will RUIN the course." Luckily, most of us at Infinite Discs think that disc golf should be fun and that making fun of names is pretty harmless. So, why not wreak wreck and ruin with your overstable approach disc?
THE LIMITED EDITION FIRST RELEASE
Infinite Discs has kicked off some of the previous disc releases with limited edition stamps. We thought the RUIN deserved the same treatment, so our initial limited edition will feature an XXL stamp. And what better way to ruin the ancient Egyptian ruins than with an alien invasion? Some of our stamps featuring Aliens taking over ancient cultures have been well received, so this fits right in.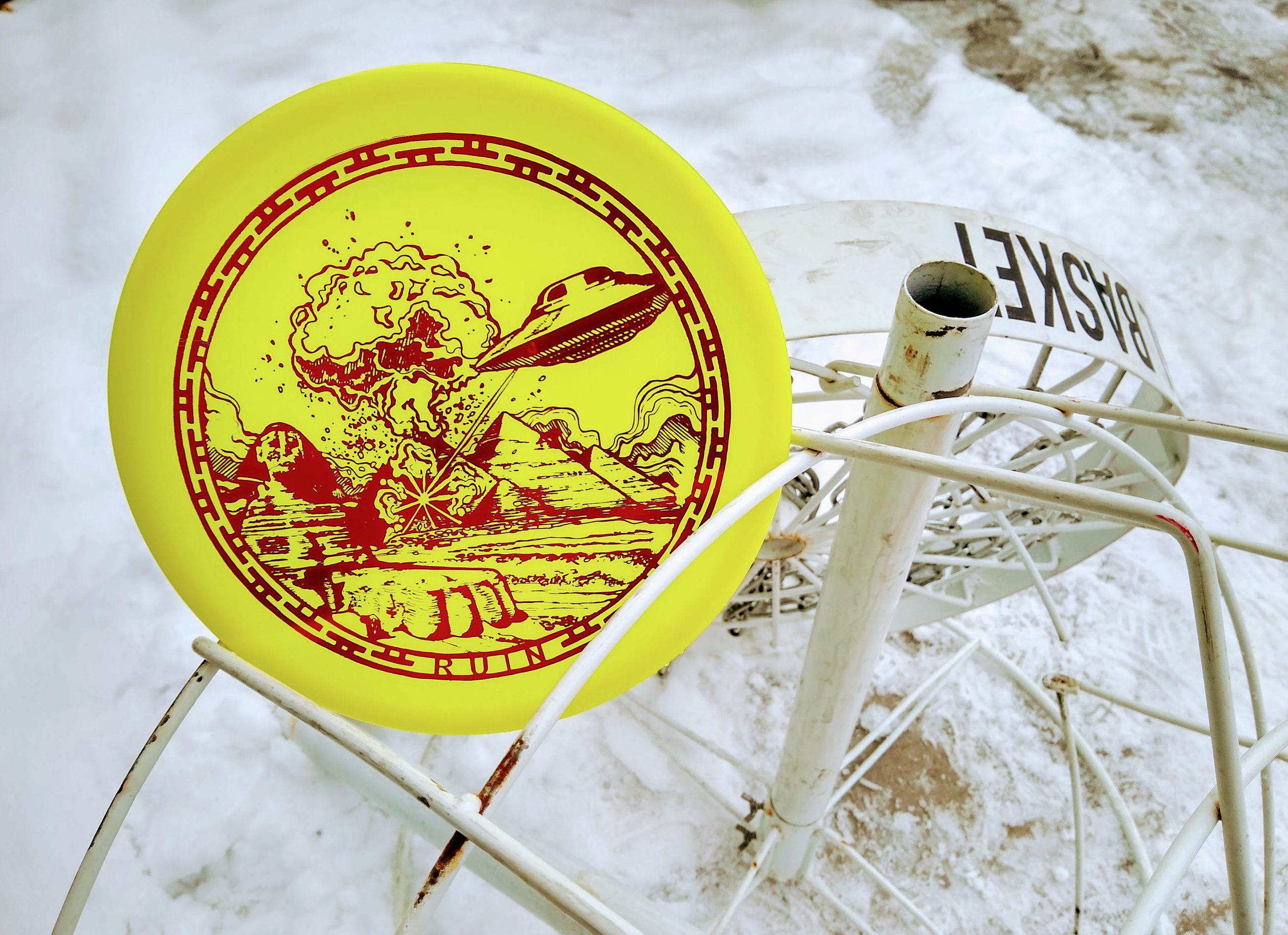 Note: Some X-Out / Factory 2nd discs were made available in advance of the release, for those who wanted to try it early.
Also watch for a limited edition Las Vegas Challenge I-Blend RUIN to be featured in the am player packs at the event!