New Disc Golf Accessories

Here at infinite discs we have recently added some new products to our catalogue of items available for sale. Have you heard of Discology? Well, Discology is a brand of disc golf equipment that offers a good handful of needed items. From bags to retriever poles and to night round accessories. They focus on providing solid gear that is durable and efficient.
At the moment, there are two bag options, a retriever and a basket light.
Disc Golf Bags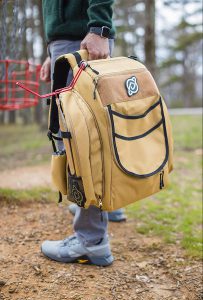 Discology provides two large backpacks for disc golf. The OG and the IZZO bag.
The Discology OG provides a large bag that is functional and ample. It has two side pockets, one main compartment, and two middle top compartments. This can hold a good amount of discs, about 26 of them. The side pockets are expandable if you need more space. it also has the fun feature of a velcro (the loop side), this allows you to easily add a velcro patch of your choosing. I think this is cool as it makes the bag a little bit customizable. This bag is available on our site for $89.99
While the Discology IZZO bag is a larger bag than the OG. It has a little bit different of a design than the OG, as it has many more pockets on the sides than the OG. It features four side pockets, a main compartment and one top middle pocket. Some of the side pockets allow for more disc storage, or for items that you would need while out on the course, or playing tournaments. You can get this off of our site for $96.99.
Disc Golf Retriever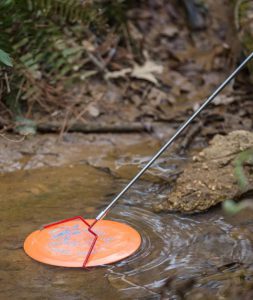 The Bird Dog Retriever is a solid retriever pole to have. It features the screw-on heads. This retriever comes with multiple heads. Allowing you to alternate which head you are using for the situation that you are in. It comes with a cage head, a single hook head, and a double hook head. Thus, allowing you to use your pole in any situation. whether you need to reach into a tree and poke the disc out of the branches, or you're in water and the cage will more easily snag and hold onto the lost disc. Or your discs is in a tight spot but allows for the double hook and not the cage. This retriever will be sure to have you prepared to save your disc from a variety of hard to reach places. You can purchase this for $42.99 off of our site here.
Disc Golf Night Round Accessories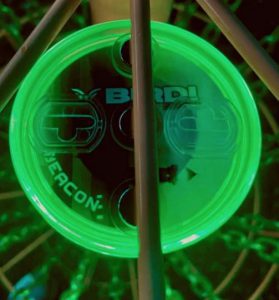 The Birdi Disc Golf Beacon is an LED light that is magnetized. This LED light offers a variety of colors to suit your favorite. It also has a strong magnet to place it on any metallic surface. Allowing you to attach to it to the disc golf basket. The light then illuminates the disc golf basket, which makes it easily seen from most anywhere on the course. This comes with a remote which you can change the light's colors. This two pack is available on Infinite Discs for $22.99.
Hopefully, this article finds you well within your day to day. Additionally, that you'll find one of these products helpful to your needs. If not, be sure to check out our website for your unfulfilled disc golf needs. Have a great one!