New Infinite Bags

Infinite Discs has brought to the market two new bags for your discs. There is the Infinite Discs Holster, and the Infinite Discs Easy Bag. These are smaller bags and meant to be very minimalistic.
The Infinite Discs Holster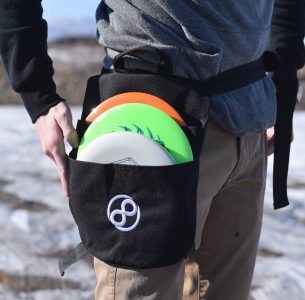 The Infinite Discs Holster is a fun and functional disc pouch that you can strap to your waist with an adjustable belt strap and a secure leg strap to comfortably carry three discs for quick, casual disc golf rounds. You'll be sure to turn heads as you tuck your three discs into the holster and strut around the fairway. It is comfortable enough to wear while you throw.
The Infinite Discs Holster also features a hoop on the top to work in tandem with the belt strap and leg strap to attach the pouch to backpacks. Or it can be attached to disc golf cart handles or frames to use as a spare putter pouch. Basically, you'll have a very affordable 3-disc pouch.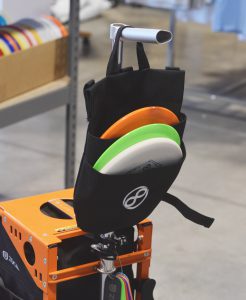 Whether you strap it to your body, hang it from your backpack, or affix it to your cart, you'll have a very handy way to carry around three extra discs!
Holds 3 discs (flip them rim-out for quick draw).
Features a top loop to hang from a bag, cart handle, or on a hook while not in use.
Features an adjustable waist strap which can also be removed if you want to use the built-in loops for your own belt.
Features an adjustable, stretchable (for comfort) leg strap to keep the holster in place when worn, or to help secure it to a cart frame.
The Infinite Discs Easy Bag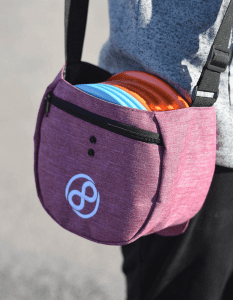 The Infinite Discs Easy Bag is the most affordable, easy way to carry your favorite disc golf discs around the course for your casual play.  Yet even for the low price, it is made from quality, long-lasting material and features an embroidered logo for a clean, simple look. It has a zipper pocket on the front, two snap positions to close the top flap over your discs for transport or storage, and an adjustable shoulder strap. The Easy Bag carries 8-10 discs.