The 2019 disc golf season has arrived! We have already had a few exciting events and we are looking forward to watching the rest of the Waco Annual Charity Open this weekend. That means it is time to start analyzing the data we got back from our annual State of Disc Golf survey. Around this time last year I wrote an article breaking down who our favorite professional disc golfers are and why. There were a few surprises last year, and with all of the sponsorship changes that happened this offseason it will be interesting to see how we responded to the survey this year.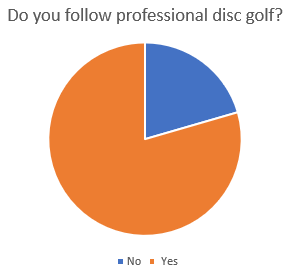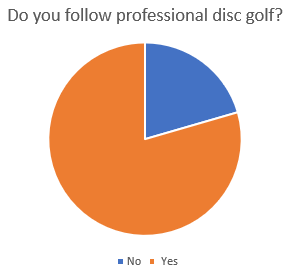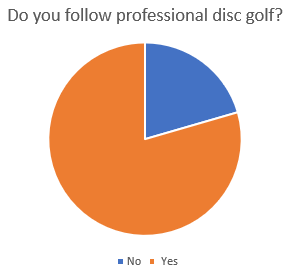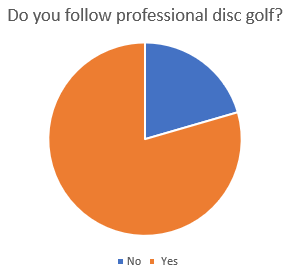 First of all, let's take a look at how many of us actually follow professional disc golf. According to the state of disc golf survey, 79.4% of us said that we follow professional disc golf. That is a slight increase from the 77.6% from last year. Professional disc golf is growing, but so is disc golf in general, and I always find it encouraging for our sport that there is still a significant amount of disc golfers who care enough about the sport to fill out an online survey but still don't take the time to follow professional disc golf.
But for those of us who do follow professional disc golf, who are our favorite disc golfers? In the survey we allowed multiple answers. We had thousands of survey takers, and not everyone has perfect spelling or like to use full names of their favorite disc golfers. But I did my best to try and make sure all of them were counted for this post. Again, we had well over 50 different disc golfers named as favorites, but here is the top 10 breakdown:
Our Favorite Disc Golfers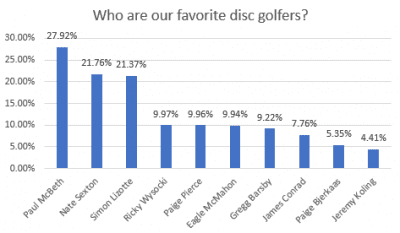 Paul McBeth–27.92%
Nathan Sexton–21.76%
Simon Lizotte–21.37%
Ricky Wysocki–9.97%
Paige Pierce–9.96%
Eagle McMahon–9.94%
Gregg Barsby–9.22%
James Conrad–7.76%
Paige Bjerkaas–5.35%
Jeremy Koling–4.41%
So I think there is one clear surprise here, and that is Ricky Wysocki being named as a favorite by less than 10% of disc golfers who took our survey that follow disc golf. I was shocked when my data analysis came back with this result. I double and triple checked and tried all sorts of crazy spellings for his name, but this is what it came back with every time. Last year he was the third most favorite disc golfer of survey takers with over 20% of survey takers naming him as a favorite. What could have caused such a drop? We will get to more of that in a bit.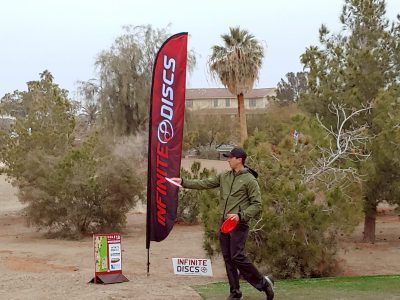 Paul McBeth was once again the most favorite with about a 2.5% increase from last year. Gregg Barsby also saw a similar increase after winning his first world championship last year. Paige Bjerkaas is the only newcomer to the top 10 after she also won her first world championship. Paige Pierce also saw a significant decrease in her percentage from this year to last year (about 5%).
Now, why did we choose these disc golfers as our favorites? Like last year, in the survey we were given five options: Attitude, Abilities as a Disc Golfer, Personality, Personal Interaction, and The Brand They Represent. We could choose all of these that applied. Here is what we said:
Why we Chose our Favorite Disc Golfers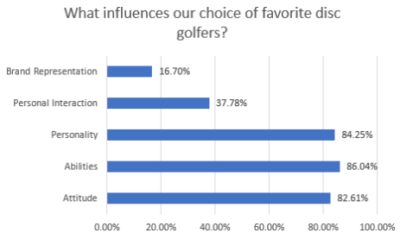 Abilities as a Disc Golfer—86.04%
Attitude—82.61%
Personality—84.25%
Personal Interaction—37.78%
The Brand They Represent—16.70%
When we compare the top four cited reasons to last year, they are all within a couple percentage points of each other.
In fact, the Personal Interaction ended up with the exact same percentage. But that final reason is where things change. That reason is The Brand They Represent, which might be confusing in other sports, but those who follow disc golf know this means who their disc manufacturer sponsor is. Last year just shy of a quarter of survey takers (24.49%) said that this influenced who they chose as their favorite disc golfers. But this year that dropped by just shy of 8%. What caused this decrease?
I have some opinions, but first let's look at a couple of crucial facts. Paul McBeth is now sponsored by Discraft after years with Innova as a sponsor. Ricky Wysocki is now sponsored by Innova after years with Latitude 64. So what happens when we take those facts and mix them with the two biggest changes/facts from our survey today: A lower percentage of disc golfers named Ricky Wysocki as one of their favorite disc golfers, and a lower percentage of disc golfers said that they brand their favorite disc golfers represent influenced their choice in favorite disc golfers?
Well, first there is Paul McBeth. His popularity increased by about 2% after a pretty good season overall and then announcing a change in sponsorship to Discraft. A few years ago this kind of move may have upset the Innova fanboys because Discraft was the only other big sponsorship team, but the Trilogy brands (Dynamic Discs, Latitude 64, and Westside Discs) have taken that spot as Innova's rival. For more context, I wrote a recent article about the recent influx in disc golf sponsorship teams and how it has influenced our disc golf culture.
Now obviously we are getting into the opinion side of interpreting these facts, but when we look at just Paul McBeth, there is a simple conclusion you could draw. It would be easy enough to say that with McBeth changing sponsorships, those who had previously cited his Innova sponsorship as a reason that he was one of their favorite pros just didn't cite that as a reason that he was a favorite this time. Because obviously, a favorite professional athlete in any sport changing the equipment they use would never influence their fan base right??? Well, this isn't just any sport, this is disc golf, and apparently we care about that kind of stuff (again, I refer to my previous article.)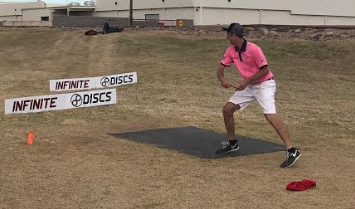 This takes us back to Ricky Wysocki and his decreased popularity. Now, to be fair, this was also the first year that Ricky didn't win a world championship in a couple years, and he wasn't as dominant in other events as he had previously been. So some of that decrease may have been because he didn't play as well as the previous year. I would argue that McBeth's increasing popularity negates that argument, but it is worth considering. But, again, what are the two biggest changes in data from last year to this year? The percentage of disc golfers who named Ricky as a favorite decreased by over 10%, and survey takers who cited the brand their favorite disc golfers represent decreased by about 8%.
I really wish we had a way to know how many of the people who said Ricky was one of their favorites didn't name him as one of their favorites this year. But like I cited earlier, Innova and the Trilogy brands have become a bit of a rivalry while Paul McBeth and Ricky Wysocki have become rivals out on the disc golf course. So when Ricky announced Innova as his new disc manufacture sponsor, the Trilogy fanboys may have seen this as him joining the enemy. But wouldn't such a decrease in those who cited brand representation as a reason for choosing their favorite disc golfers mean that it would be the last reason Ricky's popularity decreased? In my opinion, it is the opposite. The question asks why you chose the disc golfers you named as your favorite, not why you didn't choose the other disc golfers.
And I think this bit of data supports my theory. This year, of the survey takers who named Ricky as one of their favorite disc golfers, 14.67% of them cited the brand they represent as one of the reasons they chose their favorite pros. Running the numbers from last year shows that same percentage at 27.80%. So Ricky as a favorite disc golfer decreased by just over 10%, and the percentage of disc golfers who named him as a favorite and cited the brand their favorite disc golfers represent decreased by over 13%. My simple interpretation–he lost the Trilogy brand loyalists.
Our disc golf culture is fascinating isn't it? Imagine Tiger Woods losing half of his fans because he changed the brand of clubs he played with. It just wouldn't happen.
But let's not forget, there was an overall significant decrease in how many people said that the brand their favorite disc golfers represent influence who their favorites are. I think that Paul and Ricky changing sponsors influenced that, and as the game grows and sponsorships change, I think we will continue to see that percentage decrease over the coming years as well.
So what do you think? Were there any other surprises that I failed to talk about? Am I taking this team culture thing too far? Let us know what you think in the comments!