TOP TWENTY TUESDAY – NOVEMBER 13TH 2018

Infinite Discs is happy to present the weekly blog post called TOP TWENTY TUESDAY where we let you know about the short-term sales trends for discs. We'll show the sales figures from the previous Tuesday through the most recent Monday.
New discs will often spike in the chart as other top sellers shuffle spots. It can be fun to see which discs keep up the pace. These will also be broken down by plastic types, so the same model can show up in multiple plastics.
HERE WE GO…
Top Twenty Tuesday for NOVEMBER 13th, 2018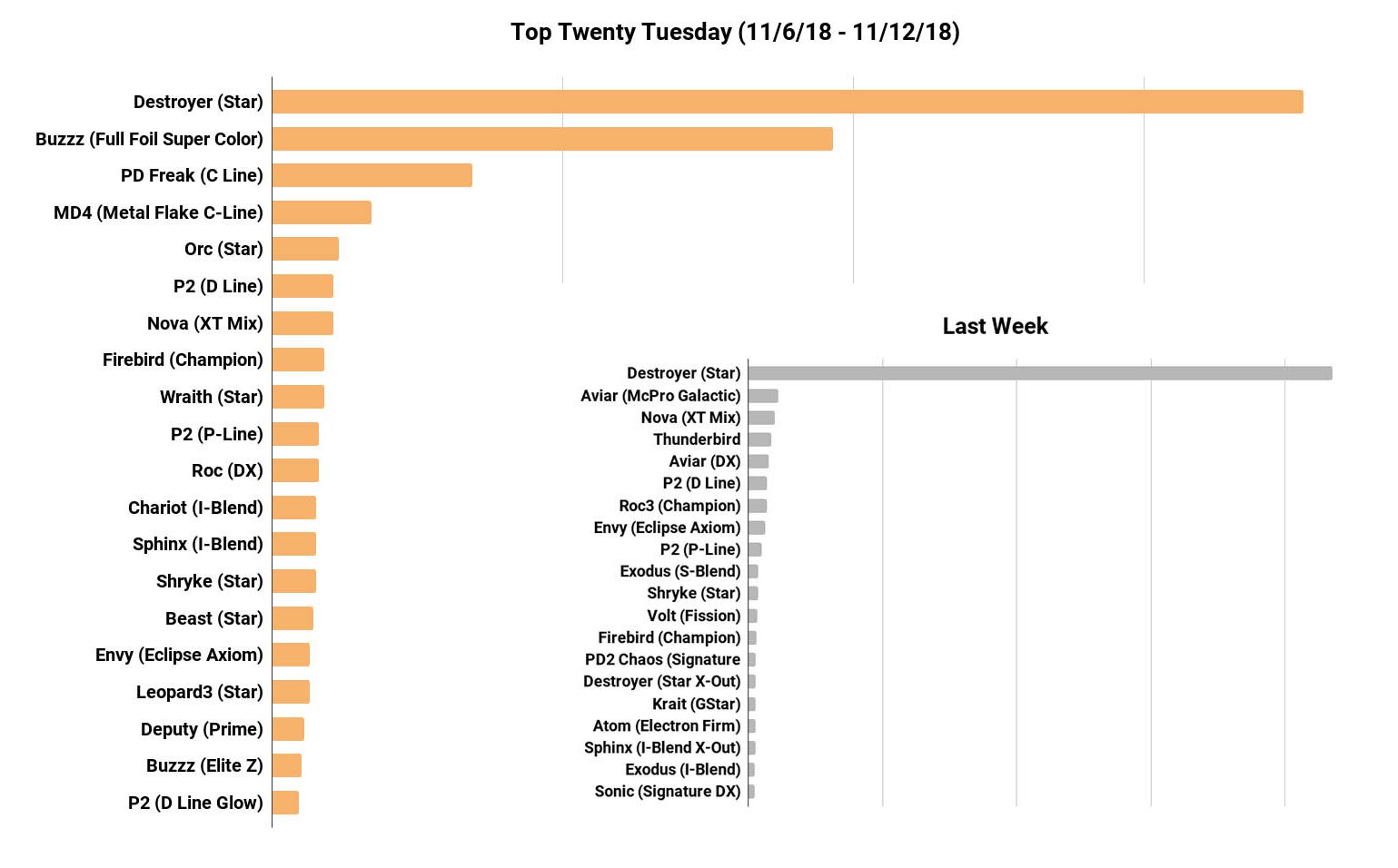 The Destroyer held a strong 1st position this last week, though the Full Foil Super Color BUZZZ made a good run with a strong #2 spot. Those Ledgestone 2019 edition Full Foil Buzzz discs are limited to 250 per Bee, with seven different bee designs, so collectors jumped on those quickly. Discmania made a good showing with their two new releases, the C-Line PD Freak which had a 10th anniversary stamp, and the Metal Flake C-Line MD4 which was new this last week. The rest of the chart shook up with several new entries, but all with moderate sales. In fact, there are only six discs out of this week's top 20 that were also in last week's chart, so that is quite a shake-up.
–> Each week we'll invite you to leave a prediction for a certain chart position on next week's TOP TWENTY TUESDAY report. The first three people to predict that chart position correctly in the comments will win a $15 gift card for the Infinite Discs website.
We had not winners for this week's guessing, since the DX Roc jumped from nowhere into the #11 spot. That was pretty random, and hard to predict. We'll make it easier this week…
GIFT CARD PREDICTION FOR NEXT WEEK:  Guess the #3 spot for next week's chart!