Top Twenty Tuesday – October 9th 2018

We're happy to introduce a new, weekly blog post called TOP TWENTY TUESDAY which is intended to let you know about the short-term sales trends for discs. We've regularly published different best-seller lists for the quarter, or for the year, etc. But sometimes it is fun to look at what the hot sellers are for a short period of time. In this case, we'll show the sales figures from the previous Tuesday through the most recent Monday. Basically, you'll be seeing the best-sellers for exactly the last week of sales at Infinite Discs. New discs will likely spike in the chart, and it will be fun to see which discs keep up the pace, and which long-term sellers appear week after week. These will also be broken down by plastic types, so the same model can show up in multiple plastics.
HERE WE GO…
Top Twenty Tuesday for OCTOBER 9th, 2018
#1 – Star Destroyer
#2 – P-Line P2
#3 – Star Wraith
#4 – XT Mix Nova
#5 – DX Aviar
#6 – Champion Firebird
#7 – D-Line P2
#8 – Champion Colored Glow Firebird
#9 – Star Caiman
#10 – Signature Swirly S-Line FD3
#11 – DX RocX3
#12 – INNFuse Star Shryke
#13 – I-Blend Sphinx
#14 – Star Shryke
#15 – Opto Diamond
#16 – Star Firebird
#17 – DX Sonic
#18 – Star Valkyrie
#19 – Neutron Teleport
#20 – Classic Blend Burst Warden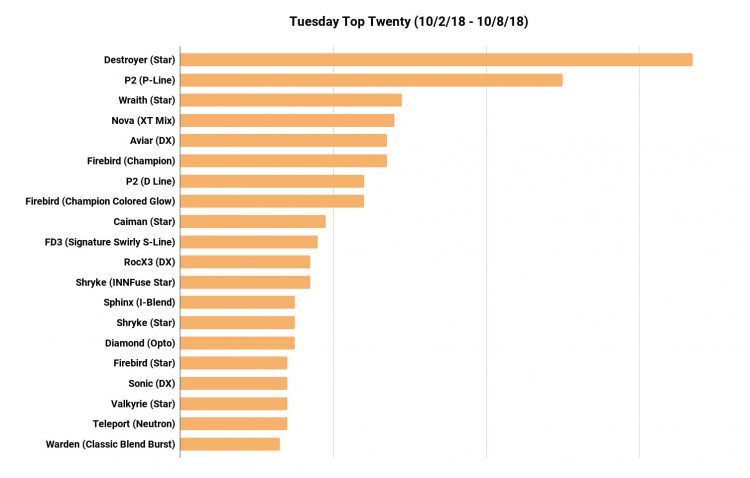 Each week we'll invite you to leave a prediction for a certain chart position on next week's TOP TWENTY TUESDAY report. The first person to predict that chart position correctly in the comments will win a $5 gift card for the Infinite Discs website.
GIFT CARD PREDICTION FOR NEXT WEEK:  Guess the #10 spot for next week's chart! Must include the disc model and plastic type.