New Discs Releases

New Disc Releases – Aug. 14-27
Prodiscus Discs – Origo
This is the newest Prodiscus putter, the Origo.
This mold is a beadless putt-and-approach disc with a shallower feel in hand. The Origio has a dependably straight flight with minimal fade at the end. This disc is available in both base and premium plastics, get one HERE.
Flight numbers: 3 | 3 | 0 | 1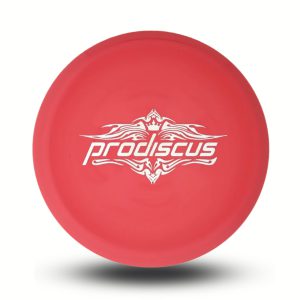 Yikun – Twin Swords
The Twin Swords is the first roll-out disc model from Yikun in their Tortoise Line plastic which is their overmold "Shell" configuration. The rim is attached to the flight plate through their own, unique method, giving the discs an amazing look.
The Twin Swords is a distance driver with a Speed 12 rating and wide, yet comfortable rim width. The Twin Swords is a unique and exciting new offering to the disc golf world, earning a spot in the bag for players at all levels.
They recently release it in this unique watermelon configuration, get one HERE
Flight numbers: 12 | 5 | 0 | 2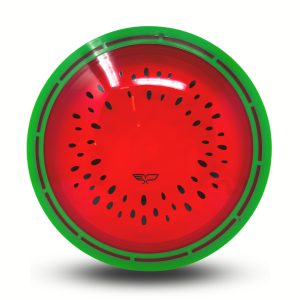 Infinite Discs
Slab
The Slab is a workhorse and can come in handy in a lot of situations. Whether you want a disc that fights the wind or you are in need of a dependable fade, the Slab is for you! Keep a look out this week for the stock stamp edition of this popular mold (Wednesday Midnight California Time).
Flight numbers: 12 | 3 | 0 | 4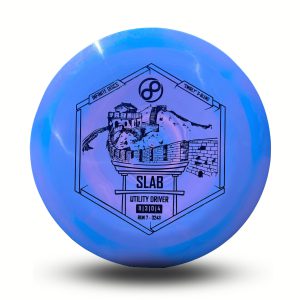 Dynasty
The Dynasty is our newest mold, and we now have it available in 3 different plastics, the newest being the C-Blend.
The Dynasty is a stable fairway driver. This control driver offers enough stability to provide a consistent "S-curve" flight. Also, it can still fly most any line you would want. Making this into a highly controllable disc. All the while it can achieve good distance for beginner and advanced players alike.
Flight numbers: 9 | 5 | -1 | 2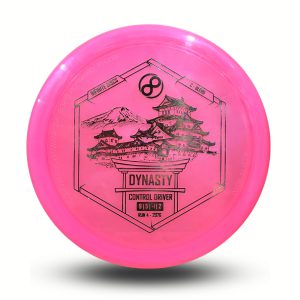 Tomb
The Tomb is one of the most popular Infinite molds, and it was finally restocked last week!
It appeared this time in Metal Flake Glow plastic. Overall, the tomb is a flat-topped, low-profile, putt-and-approach disc with a comfortably smooth, beaded rim. The Tomb has just the right amount of stability to cover ground while threading the needle on approach shots, whether thrown forehand or backhand. It can also be used as a crossover mid-range, driving putter, or to hold the line while putting for distance or in moderate winds.
Flight numbers: 3 | 4 | 0 | 1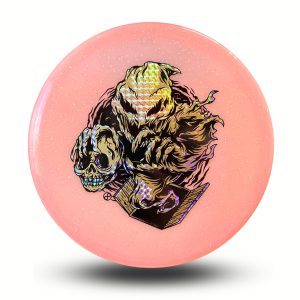 Anubis
The Anubis is a straight-flying, all-purpose, precision mid-range disc that will fit into the bags of both novice and professional players.
We teamed up with touring pro Maria Oliva to bring you a beautiul Signature Glow S-Blend Anubis that is so buttery smooth and useful on the fairway.
Every player can count on the Anubis to hold the line whether thrown for shorter approaches or for longer distances off the tee. The Anubis will help players to fine-tune their throwing skills by flying precisely in accordance with the release from the hand.
Flight numbers: 5 | 5 | 0 | 0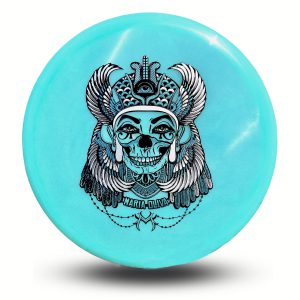 Wild Discs
Sea Otter, Stock Stamp
The Sea Otter is a slow and floaty disc, and was released on Infinitediscs.com in Lava plastic. This overstable putter is a dependable and workable putter. It even works well as a throwing putter. Its low speed, higher glide, and overstability provide a disc that is workable and consistent. This will be a go-to disc for those tighter approach shots or where accuracy is paramount.
Flight numbers: 2 | 3 | 0 | 2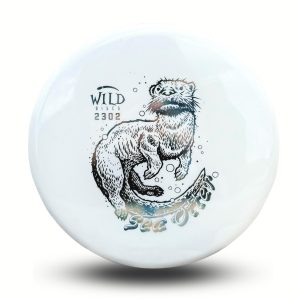 Cole Redalen Signature Sea Otter
Same as the Lava Sea Otter, this Signature Lava putter features a new stamp collaboration with the touring pro player Cole Redalen who is sponsored by both Wild Disc and Infinite Discs.
Flight numbers: 2 | 3 | 0 | 2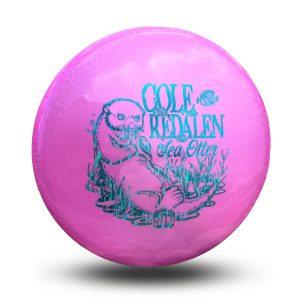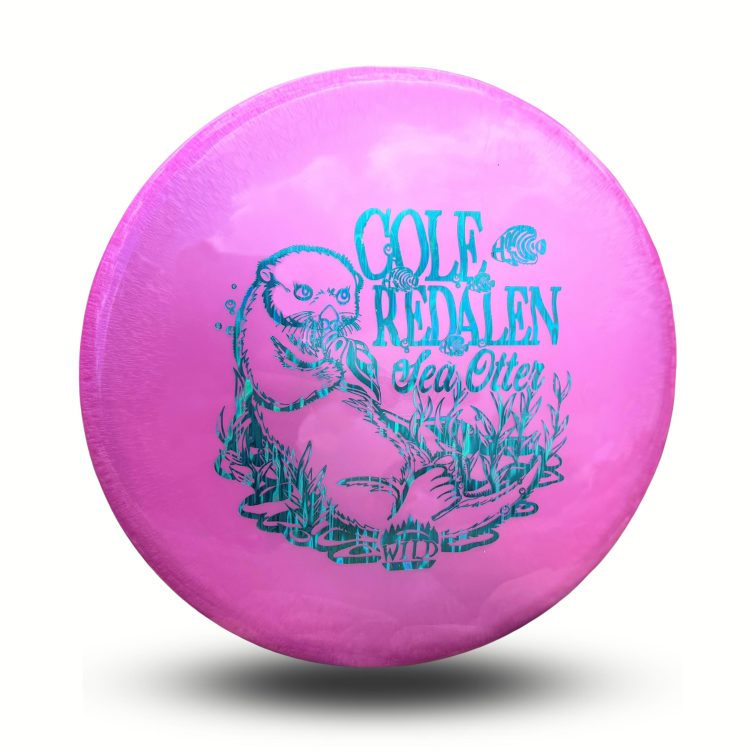 Great White
The Great White is a high speed, overstable distance driver that is a recent addition to our site. This driver has high glide, allowing it to achieve great distance and long flights. This is a dependable disc that can handle power. Making this disc an excellent distance driver for those power throwers, or as a utility disc.
Flight numbers: 13 | 5 | -1 | 3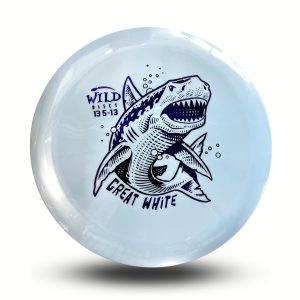 Doomsday Discs – Frag
The Doomsday Discs Frag may be one of the most overstable discs on the market. This may not be the most versatile disc, but the Frag will consistently fade hard, making it the perfect utility disc.
Flight numbers: 5 | 2 | 0 | 5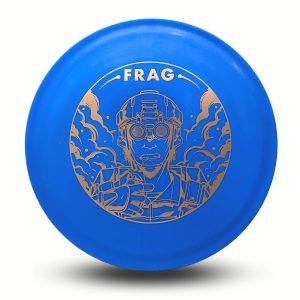 ABC – Flying Squirrel
This understable midrange has excellent glide. The speed of the Flying Squirrel combined with its steady glide means that if thrown correctly, you can watch the Flying Squirrel sail through the air in a beautiful S-Curve that glides directly to your target. The disc does have a slightly stronger tendency to slice rather than hook, and is really easy to throw.
Flight numbers: 6 | 5 | -3 | 2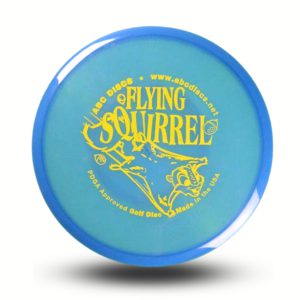 Thoughtspace Athletics- Alter
The Alter by TSA's is their first beaded putter with a flat top and low profile. This stable disc flies consistently with a moderate fade. The Alter will be a reliable tool in your bag that will work well on the teepad, the green, and finishing at the basket.
Flight numbers: 3 | 3 | 0 | 1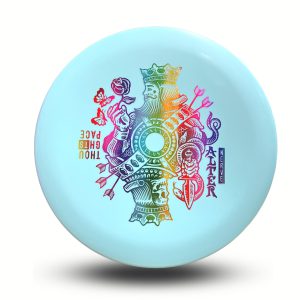 RPM – Kotuku
The Kotuku is a reliable, overstable to straight mid-range disc with a nice end-fade. It will easily hold a line and flies with a glide that is sneaky long.
This run of the Kotuku is a Dave Feldberg signature disc in strata plastic, get it HERE
Flight numbers: 5 | 5 | 0 | 2