The Ripshot Disc Golf Bag

There has been a new type of disc golf bag that has recently started to gain traction, "holster" style bags. These holster type bags sit on your waist and hip. They hold a small amount of discs, as they are designed to be slim and allow you to throw without the bag getting in the way too much.
Here at Infinite Discs we have recently added the Ripshot Disc Bag to our product listings. Be sure to check this bag out on our site, these are available for $33.99.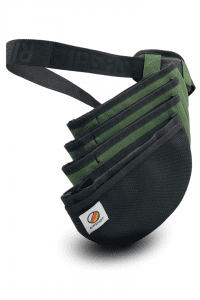 The Ripshot Disc Bag is a holster type bag, designed to hold 4-8 discs. You wear this snuggly on your hip and thigh. This bag is designed to stay out of your way while throwing. All the while securing your discs in the bag throughout all motion.
The Ripshot Disc Bag cuts down on the bulk of disc golf. This bag makes for a great bag for the minimalist, or for your quick round of just go-to discs.