Watch for More "Infinite Bomber" Stamped Discs

Infinite Discs recently started adding some unique inventory to our online store. For those players who like to pull discs out of their bag that stand out from the discs in other player's bags, we started making some special stamped discs which are only available at Infinite Discs. The first of these special stamps is one that we call the "Infinite Bomber".  The first discs we stocked with the Infinite Bomber stamp were a batch of Wizard putters from Gateway, which had the stamp presented in full size on the discs. We then brought in a batch of discs from Innova including popular disc molds like Destroyers, Valkyries, Firebirds, Teebirds, Aviars, Novas, Rocs, Wraiths, and more. They sold quickly!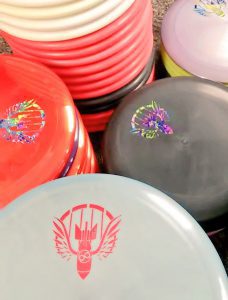 To finish up the month of August, we brought in a fresh batch of discs with Infinite Bomber stamps from Dynamic Discs, Latitude 64, and Westside. They include popular molds like Rivers, Judges, Justices, Mauls, Defenders, Destinies, Harps, Diamonds, Trespasses, Pures, and more.  Once again, they are selling quickly as players find their favorite discs in their favorite colors with the fun stamp.
Now, as we head into the conclusion of the 2016 summer season and into autumn, more Infinite Bomber stamps are on the way. You'll soon see a selection of popular discs from Discmania showing up on the Infinite Discs website. A few other brands will follow. Here is how you can search to see which discs are available with the Infinite Bomber stamp at any given moment.
First go to the Infinite Discs store website. Then follow these steps:
1 – Click on the "Advanced Disc Search" button on the top of our website, or click here.
2 – Check-mark the box that says "Extras" in the search window.
3 – Scroll down until you see "Infinite Discs Stamp" and check-mark that box.
4 – Click the "View Individual Discs" box and scroll through the discs and add what you want to your cart! This will show you all the disc colors, weights, etc. with the stamp.
OK, now that we've talked about the Infinite Bomber stamp, maybe you think there is another little design out there that is more your style and that makes the statement that you want to make? Well, we have good news for you. These stamps will be limited editions! We won't keep any single stamp going indefinitely. If you like the Infinite Bomber, then get them while you can. Another exclusive Infinite Discs stamp is coming in a few weeks, and we call it the "Infinite Illuminati".
If you are especially fond of exclusive stamps on great discs and want a surprise each month, then be sure to join the Infinite Discs VIP Club which is a disc-of-the-month subscription program, presenting limited edition, one-time runs of premium discs with special stamps. Each month you'll get a surprise in your mailbox with a new disc to throw (or to collect and hang on your wall). READ HERE about the Infinite Discs VIP Club.