Putter Wars 2017 Finale – The Best Selling Putters

We've been tracking putters sales all through the year 2017, curious to see which would rise to the top by the end of the year. The early lead by the Discmania P2 simply gained momentum as the year went on. The results are in, and these are the top 20 best-selling putt-and-approach discs at INFINITE DISCS.
TOP-20 BEST SELLING PUTTERS
#1 Discmania P2
#2 Innova AVIAR
#3 Dynamic Discs JUDGE
#4 Innova NOVA
#5 Gateway WIZARD
#6 Westside HARP
#7 Latitude 64 PURE
#8 Axiom ENVY
#9 Dynamic Discs WARDEN
#10 Innova AVIAR3
#11 Latitude 64 DAGGER
#12 MVP ATOM
#13 Streamline PILOT
#14 Discraft ZONE
#15 MVP ION
#16 Innova KC PRO AVIAR
#17 MVP ANODE
#18 Dynamic Discs SLAMMER
#19 Dynamic Discs DEPUTY
#20 Westside SHIELD
LOOK AT THE SPREAD
That list of top-20 features a lot of great putters. But perhaps the most interesting statistic about that list is the huge disparity between #1 and #20 in terms of numbers sold. The #20 Shield putter sold less than one tenth the number of the #1 P2 putter!  The P2 also sold more than the #3 Judge and #4 Nova combined!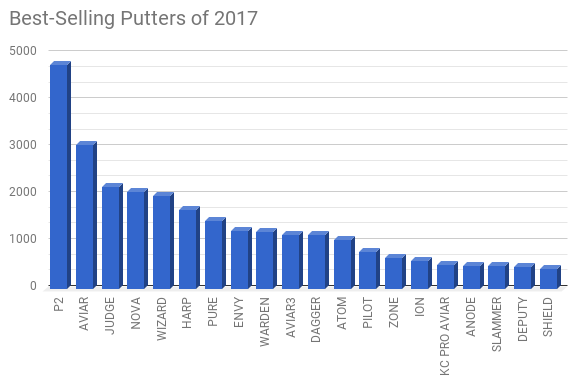 WHICH P2 PLASTIC SOLD THE MOST?
The top-selling putter, the Discsmania P2, is popular in several plastics. Here are the plastic types ranked in order by most popular in terms of sales at Infinite Discs in 2017:
#1 D Line
#2 P Line
#3 S Line
#4 D Line Glow
#5 Swirly S Line
#6 C Line Luster
#7 X Line
#8 Signature P Line (Pro Support disc)
#9 D Line X-Out (factory second or misprint)
#10 G Line
When it comes to putters, softer plastic blends still rule. They are usually preferred for actual putting, while the more durable plastics are preferred for approaches and drives.