For those of you that are in the search of a new bag for whatever reason, we've recently put some new ones online for purchase. It seems that there is a bag for every price point within these new releases. There is the Axiom Shuttle, The MVP Voyager Lite,  the Dynamic Discs Paratrooper, the Latitude 64 Core Pro, and the Dynamic Discs Combat Ranger. These are all available on our website now.
Axiom Shuttle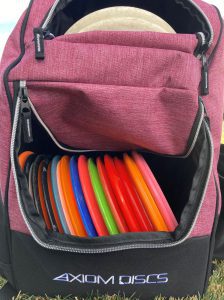 The Axiom Shuttle is an excellent bargain bag. This is great if you're switching from a shoulder bag to a backpack. This bag will hold all the basics that you need it to; 12-16 discs, water bottle, cell phone, keys, mini marker, sharpie/pencil(s), a grip enhancement tool, and a snack. You can pick this bag up for $39.99 online here.
MVP Voyager Lite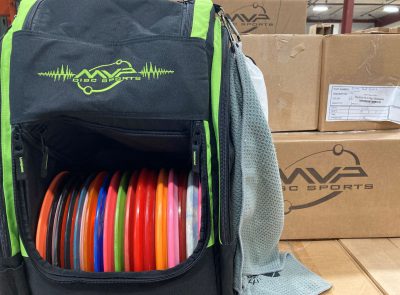 The MVP Voyager Lite is very similar to the Voyager, except that it is 25% lighter than it. You'll be able to carry 20-22 discs comfortably. As well it has ample room for storage, whether it is stuffing your jacket into the bag or carrying necessities for your tournament, it has the storage you need. This is a good mid-size lightweight bag that can hold a good amount and just the right size for fitting into a backpack cart. You can purchase this bag for $89.99 by following this link.
DD Paratrooper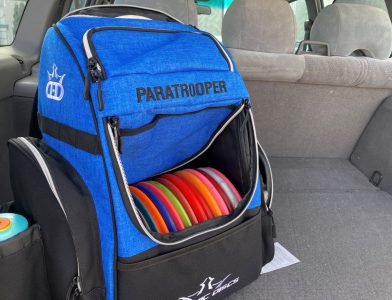 The DD Paratrooper is the big brother of the Trooper bag. This has the ability to carry 18+ discs in the main compartment. Where it has two decently sized side pockets, you'll be able to carry the necessities and a little extra. The water bottle holders on this bag can hold some big bottles. A 32oz bottle fits in it with some wiggle space. With more padding than the trooper, you'll carry the bag more comfortably. You'll be able to buy this bag here for $99.99.
Latitude 64 Core Pro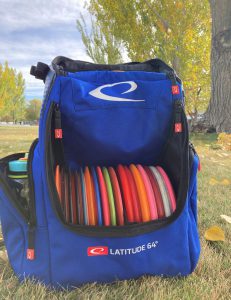 The Latitude 64 Core pro is the next upgrade from their Core bag. This one will hold up to 18 discs in the main compartment. It is lighter than the Luxury E4 bag, making it less tiring to carry for those long days on the course. There are two side pockets that will allow you to carry a multitude of things that you'll need on the course. You could fit a 32oz bottle in it and still have room for other things. There is an adjustable strap on one side that will allow easy carry of an umbrella or a tournament stool, or both. With this bag you'll have what you need on the course. Purchase this bag by clicking on the link, it is available for $99.99.
DD Combat Ranger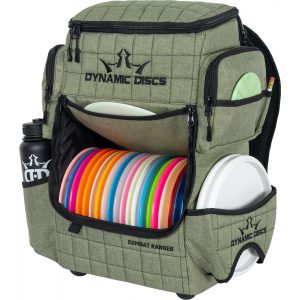 The DD Combat Ranger is a new bag that is based off of the beloved Ranger bag. This one has various improvements above the Ranger itself. The putter quick grab has a little more room for easier access. It has some upgrades that the Ranger doesn't have. There is a bladder pouch for a bladder, or you could use if for disc storage as well. They've expanded upon the upper pouch, making it larger for more storage capabilities. And a better pad system that will allow for improved back ventilation on those hot summer days. Buy this bag for $199.99 here.