Best Disc Golf Distance Drivers for 2023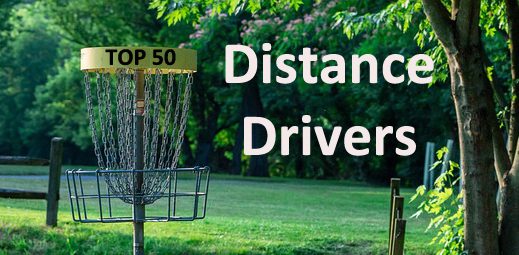 In a recent blog we took a look at the top disc golf discs in each category (Distance Drivers, Control Drivers, Mid Ranges, and Putt and Approach). In this blog we wanted to focus on the Distance Drivers and take a deeper dive into the most popular molds in that category. We'll look at the top 50 molds, some of the manufacturers on the list, and the best over- and understable drivers.
The top 50 list is based on the sales at Infinite Discs for 2022. They show which discs are in the most demand for the year. Here is the list of the top 50, and what percentage they sold of all distance drivers.

Top of The Class
Nearly one out of every four distance drivers sold in 2022 were either an Emperor, Wraith, Destroyer, or Pharaoh. That's a pretty impressive domination of the market! After the top four, the numbers drop off sharply, and then continue a slow decline in percent of sales.
Thoughts Space Athletics was the first manufacturer to break the Infinite/Innova streak, and the top ten, by finishing 8th and 9th. Those two molds represent 4.4% of all distance drivers. TSA had a couple other molds that made it into the top 15. In fact, there were quite a few brands that had multiple molds in the Top 50 List. Here are the numbers: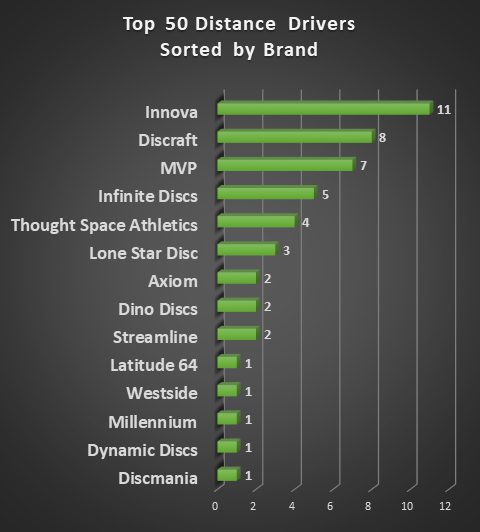 Best Distance Drivers by Month
It's always fun to see how the sales trends come and go. At the beginning of 2022 we were still affected by pandemic supply chain issues and so many popular distance drivers were unavailable or only available at limited quantities. In this living chart you can see the sales trends of the best distance drivers by month and can see the rapid accelerations of popular new releases.
Top Manufacturers
Long-time manufacturer Innova came out on top with over one-fifth of the top 50 molds. Five brands only had one mold. But that is one more than Prodigy and Legacy had. Lone Star and Dino Discs are two newer brands, but they each had a couple molds in the top 50. Now let's see what percentage of distance driver sales were held by the top 50 molds: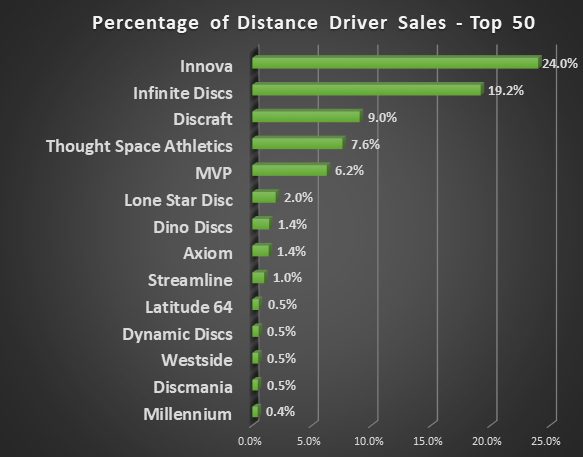 Innova molds sold nearly one in every four distance driver discs in 2022. Infinite sold nearly one in five molds. Over half of all discs in this category came from Innova, Infinite, or Discraft! Innova and Discraft are well-established names in the disc golf world. And Infinite is, or course, our own brand. Although not quite up to the top three levels of sales, there are several newer brands that have made huge gains in the market in recent years. We will talk more about those brands in a future blog.
Now let's take a deeper look at the Top 50 and break it down into stabilities. We will find out the top 10 overstable molds, and the top 10 understable molds. See how many of these YOU throw.
Top Overstable Distance Drivers
Overstable (and Very Overstable) discs will be defined as molds that have a flight rating Fade of more than 2. The Turn can vary, but is usually 0 to -1. Molds with those flight numbers are favorable among skilled players because they can be thrown very hard, not flip too much, and still have a reliable finish. Here are the Top 10 overstable discs: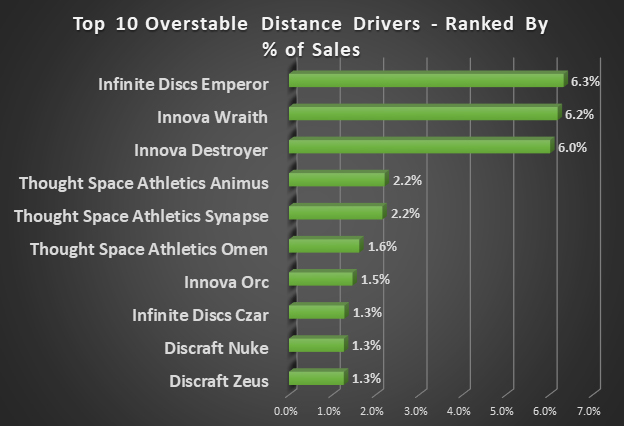 Top 10 Overstable Distance Drivers of 2022:
The top 10 Overstable list is divided among four brands. Innova and TSA have three molds each on the list. Infinite and Discraft have two molds each. The first and second molds account for more sales than the last seven combined.
Overstable Discs Approval Dates
I pulled up the PDGA approval date for the Top 10 Overstable distance drivers and there is quite a range of dates. Here is the list:
| | |
| --- | --- |
| Disc | PDGA Approved |
| Innova Orc | Jan-04 |
| Innova Wraith | Aug-05 |
| Innova Destroyer | Jun-07 |
| Discraft Nuke | Oct-09 |
| Discraft Zeus | Dec-18 |
| Infinite Discs Emperor | Feb-19 |
| Thought Space Athletics Animus | Jun-20 |
| Thought Space Athletics Synapse | Jan-22 |
| Thought Space Athletics Omen | Mar-22 |
| Infinite Discs Czar | Oct-22 |
The oldest three were approved in 2004, 2005, and 2007. The most recently approved molds just got the PDGA nod last year! The Czar was just a couple of months ago as of this writing. That is an impressive start in a very crowded field of discs.
Top Understable Distance Drivers
Now let's check out the understable distance drivers. This sub-category includes molds that have at least -2 Turn. That is typically a good number for beginners or more advanced players who want to shape their shot a little more.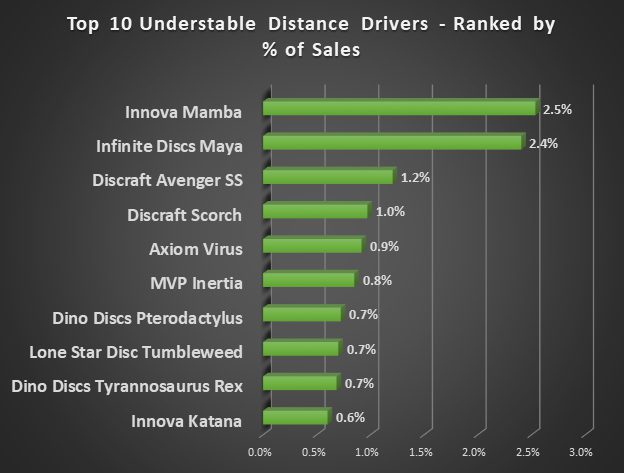 Top understable disc golf drivers of 2022:
Understable Discs Approval Dates
The Mamba and the Maya were the clear leaders for understable distance drivers. Those had double the sales of the third-place Avenger SS, and nearly as many total sales as the remaining molds in the top 10. Let's take a look at the PDGA approval dates for the top 10 understable molds:
| | |
| --- | --- |
| Understable Driver | PDGA Approved Date |
| Discraft Avenger SS | Feb-08 |
| Innova Katana | Oct-09 |
| Innova Mamba | Jan-12 |
| MVP Inertia | Feb-14 |
| Axiom Virus | Dec-14 |
| Infinite Discs Maya | Jun-20 |
| Discraft Scorch | Apr-21 |
| Lone Star Disc Tumbleweed | Mar-22 |
| Dino Discs Pterodactylus | Not Approved |
| Dino Discs Tyrannosaurus Rex | Not Approved |
The top two oldest molds are the Avenger SS and the Katana. And once again, there is a mold that sold enough to make the top ten, yet was approved less than a year ago. The Tumbleweed was approved in March of 2022. Nether of the Dino Discs have been approved by the PDGA. They are lightweight discs that are designed for beginners. (Learn more about Dino Discs HERE).
Next Up: Control Drivers
That does it for our look at the Top 50 Distance Drivers. Next up we'll take a look at the Top 50 Control Drivers.
What are the Best Distance Drivers for You?
What will be the best distance drivers of 2023? Will they be new discs, or the same traditional classics. A new distance driver the Innova Charger was just announced that will likely make next years top list.
What is your favorite distance driver? What is the disc you have thrown the farthest? What distance drivers do you think will be the best selling in 2023?  Comment below to help others find the best disc golf drivers for their game.