Well, this morning my wife made some orange juice. I thought it looked a little funky, regardless I tried it . .  . it was orange jello – completely undrinkable. Happy April Fools Day! Hopefully your day is going well, that you have fun playing pranks, not playing pranks, or getting pranked.
Today, we're focusing on the Axiom Envy, use the provided discount code to save 20% on all Envy molds. The Envy is a well-beloved putt & approach disc. While the most common use of this disc is for driving or approach throws, it makes for a good windy putter. As a thrower, it is reliable and versatile. Which is why, people like to use this as a thrower. It can hold the hyzer line as well as the anhyzer line. It is an incredible disc capable of so many things, after all, we all saw its performance in action with James Conrad's epic throw-in at worlds last year. If you haven't, it was the last hole and he was one away from a tie with Paul. Paul was on his par throw when James threw this in for a birdie, forcing a sudden death playoff. Watch below, its awesome.
Well, April fools on you, the Envy is not the sole focus of Focus Friday, this discount code will get you 20% off the Paradox, and the Pilot also! Maybe not the best prank, but it is definitely pulling a quick one over you, but in your favor! Use the discount code FOCUSENPAPI to save 20% on all Envy molds, Paradox molds, and Pilot molds.
The Axiom Paradox is a fairly new mold. It is an understable midrange that was designed for new players, and for the understable utility space in your bag. It's high glide and turn enable it be quite the controllable disc. Whether that is for a turnover shot, an easy straight shot, or a roller; the Paradox can easily take these shots on and execute them with ease. While for the beginner, this will prove to be an easy-to-throw disc. Capable of flying straight, and proving to be a consistent midrange.
The Pilot is a beaded putter from Streamline. This putter is a stable low speed mold with a high amount of glide. Where it isn't as stable as the Envy, people enjoy this disc as a putter. This flies pretty straight and very consistent. Its bead is small, and comfortable. I've enjoyed throwing this mold around. Definitely a good disc that deserves the positive reviews and love it receives.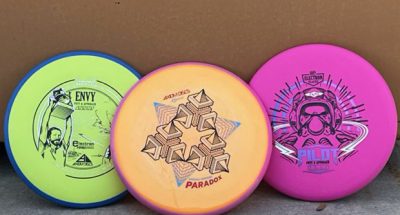 The Discount Code
Starting today, and over the weekend you can use the promo code: FOCUSENPAPI to save 20% off all the Envys, Paradoxes, and Pilots that you want. Simply head on over our site and select the ones that you want. Now is a great time to try out these molds or get those backups that you're looking to have for that dreaded day of loss or retirement.
Simply add as many of these molds to your shopping cart as you want, then BEFORE you click to checkout, look below the shopping cart. Right below the shopping cart is a box for Discount Codes. Click there and paste the code, FOCUSENPAPI, into the box. Then proceed to checkout and you'll get the discount.
Here is a screenshot to help you out, though it doesn't necessarily show a Drone in the cart – it's just a generic visual to help you find the discount code box: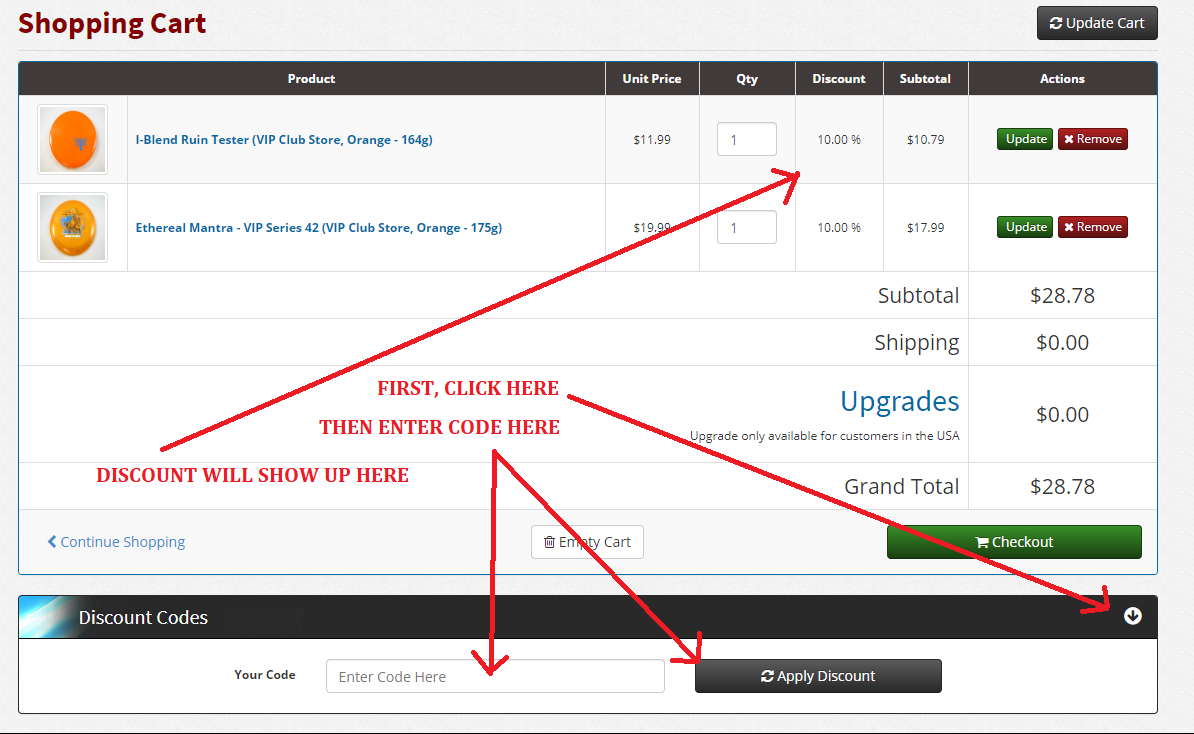 We hope that you love throwing the Envy, Paradox and/or Pilot. If you've thrown these discs, feel free to share what you think of this midrange. And if you're ever looking for other discs that are on sale, check out this link. Or read through this blog post to see all of the ways that you can save money here at Infinite Discs.